Watch Don Hertzfeldt's Mind-Melting 'Simpsons' Couch Gag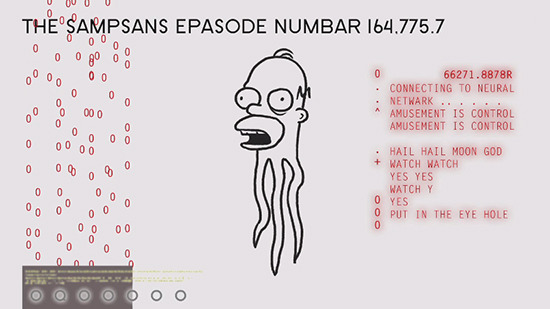 In the past couple years the producers of The Simpsons have allowed a few different filmmakers and artists to go wild in revamping the show's opening "couch gag." Banksy envisioned a mine in which slave labor animates the show and grinds up kittens to stuff Bart Simpsons dolls; Guillermo del Toro scripted kaiju battles and cameos from Alfred Hitchcock, Stephen King, and a legion of other horror characters from his own films and others. This week, Oscar-nominated animator Don Hertzfeldt got his shot, and the Don Hertzfeldt Simpsons couch gag has got to be the most bonkers animation that will run on mainstream TV this year.
For anyone who's ever seen some of Hertzfeldt's animation (a couple pieces of which are embedded below) the way-out-there tone of this piece won't be a surprise. Hertzfelt has the knack for twisting seemingly approachable and familiar setups into bizarro scenarios that play with outlandish and often distressing concepts. We see some of that at play here.
The Don Hertzfeldt Simpsons Couch Gag
For some background on that segment, check out Hertzfeldt's The Animation Show, which starts off in a seemingly mundane manner before going totally nuts.
Here's Rejected, which scored the animator an Oscar nomination.