'Interstellar' TV Spots Serve Up More Footage, More Story Details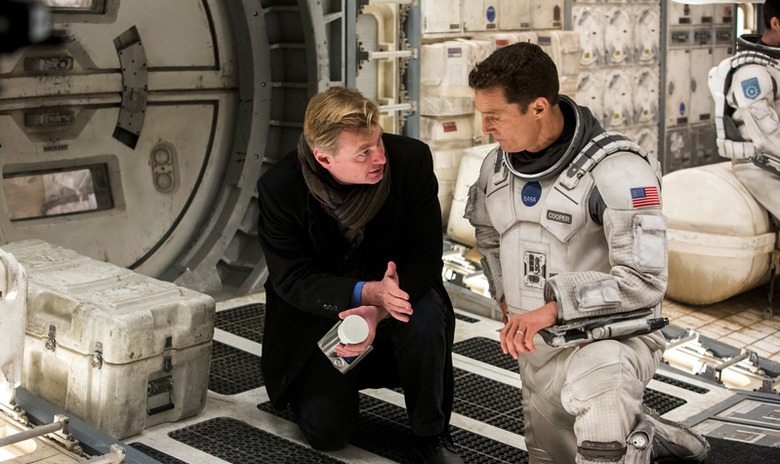 In addition to being one of the most highly-anticipated movies of late 2014, Interstellar is also one of the most mysterious. The Christopher Nolan-directed sci-fi adventure hasn't played any festivals or otherwise allowed for any early reviews, and even the marketing campaign has been careful not to give away too much.
And naturally, all of that secrecy just makes us more curious about the movie. For now, we'll take what we can get. Today, that means four new TV spots which reveal a bit more Interstellar footage and clarify some of the plot details. Watch the Interstellar TV spots after the jump.
[via Coming Soon]
We'll update with better embeds if and when we get them. It's really a shame the quality of these videos isn't better, as Nolan's latest looks typically stunning. Hoyte Van Hoytema (Her, Tinker Tailor Soldier Spy) steps in to replace Nolan's usual director of photography Wally Pfister, who was (unfortunately for everyone) off making his directing debut with Transcendence.
Even with those gorgeous visuals sidelined, though, Interstellar looks fantastic. Matthew McConaughey's performance makes us grateful all over again for the McConaissance, and Anne Hathaway dishes out more of the steely charisma that made her such a bright spot in The Dark Knight Rises.
There's no doubt the rest of the supporting cast will be up to their level as well, considering it includes Jessica Chastain, Casey Affleck, David Gyasi, Ellen Burstyn, Bill Irwin, David Oyelowo, Wes Bentley, Michael Caine, and John Lithgow.
Interstellar lands November 7. Here's the official synopsis, which keeps things short and sweet:
Interstellar chronicles the adventures of a group of explorers who make use of a newly discovered wormhole to surpass the limitations on human space travel and conquer the vast distances involved in an interstellar voyage.