'London Has Fallen' Closes In On A New Director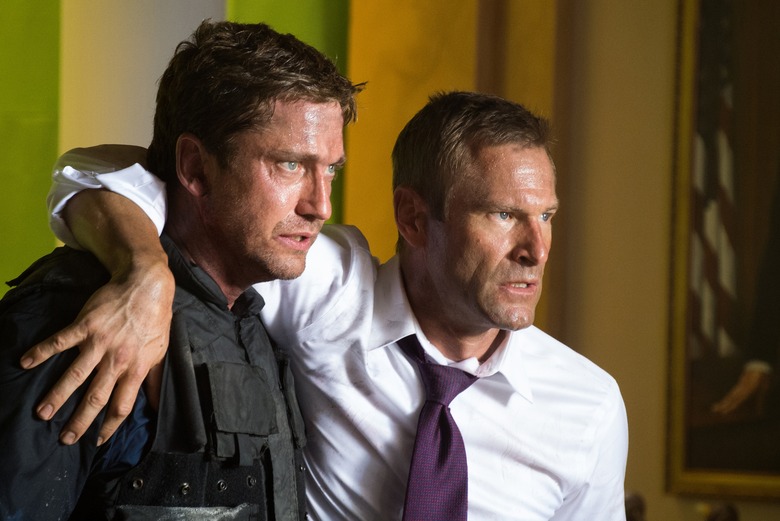 London Has Fallen may have found a new director. According to a new report Babak Najafi, best known for Easy Money II: Hard to Kill (a.k.a. Snabba Cash II), has entered talks to take over at the helm following Fredrik Bond's last-minute departure.
Gerard Butler returns to star in the Olympus Has Fallen sequel along with Aaron Eckhart. Learn all about the new London Has Fallen director after the jump.
Antoine Fuqua directed the first film but opted not to come back because he didn't like where the series was headed. Charlie Countryman director Bond was hired in August. However, he dropped out just one month later after balking at the film's scale and schedule.
London Has Fallen picks back up with Butler's Secret Service character Mike Banning as he discovers a plot to wipe out several world leaders while the American president (Eckhart) is in London for the British PM's funeral.
Najafi isn't too well known in the U.S. yet. He made his feature filmmaking bow with 2010's Sebbe, which won Best Debut Film at the Berlin Film Festival, and followed up with the Snabba Cash sequel. London Has Fallen will be only his third film.
Last we heard, London Has Fallen was slated to begin a four-week shoot in late October with stars Eckhart, Morgan Freeman, Angela Bassett, and Melissa Leo. Filming would then resume in February with Butler, and the whole thing would wrap in April.
The split schedule was intended to give Butler time to shoot Geostorm. It's unclear whether those plans have changed in the wake of Bond's exit, but as far as we know London Has Fallen is still set to open October 2, 2015.