Saturday Morning Cartoons Are Officially Dead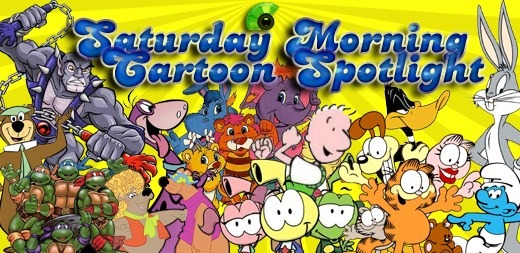 I feel like I'm really getting old because I'm tempted to tell stories of "back in my day" and "when I was a kid," but time passes and with every new generation things change. I used to look forward to Saturday mornings for the block of morning cartoons that ran on weekends. From 8am to noon, most of the television networks were filled with the latest and greatest cartoon series, sandwiched between commercials for the best new toys of the era. (Some of those series were, in fact, also commercials for toys.) Over the years, the cartoons have started to disappear from Saturday morning. Why? A combination of cable networks which allow 24-hour access to cartoon programing and a 1996 FCC mandate.
Over the weekend, The CW's Vortexx programming block (which included episodes of Cubix, Sonic X, Dragon Ball Z and Kai, Digimon Fusion, Yu-Gi-Oh! and more) aired for the last time. Next week The CW will replace the animation with "One Magnificent Morning", a live-action television block filled with educational shows for kids. This is officially the end of broadcast television's Saturday Morning Cartoons, as it has been known since the 1960s. Find out more about why the Saturday Morning Cartoons have been killed off and take a look back at the glory days of Saturday Morning Cartoons of the 1980s and 1990s.
First off, with this recent news, I decided to compile a list:
The 20 best Saturday Morning Cartoons of all time!
How many of my choices and rankings do you agree or disagree with?
Here is a recap from wikipedia of why Saturday Morning Cartoons have disappeared from Network television over the past 18 years:
As of 2014, there are currently no more animated productions on network TV. A 1996 Federal Communications Commission mandate, issued in the wake of the Children's Television Act, requires stations to program a minimum of three hours of children's educational/informational ("E/I") programming per week. To help their affiliates comply with the regulations, broadcast networks began to reorganize their efforts to adhere to the mandates, so their affiliates would not bear the burden of scheduling the shows themselves on their own time thus eliminating the risk of having network product preempted by the mandates. This almost always meant that the educational programming was placed during the Saturday morning cartoon block.
NBC abandoned its Saturday morning cartoon lineup in 1992, replacing it with a Saturday morning edition of Today and adding an all live-action teen-oriented block, TNBC, which featured Saved by the Bell, California Dreams and other teen comedies. Even though the educational content was minimal to non-existent, NBC labeled all the live-action shows with an E/I rating and the legal fiction of a blanket educational summary boilerplate provided to stations to place in their quarterly educational effort reports for the FCC. CBS followed NBC's example in the late 1990s by producing CBS News Saturday Morning for the first two hours of its lineup and an all live-action block of children's programming. The experiment lasted a few months, and CBS brought back its animated CBS Storybreak series. In 2004, ABC was the last of the broadcast networks to add a Saturday morning edition of its morning news program (in their case, Good Morning America Weekend) in the first hour of its lineup, mainly due to affiliate criticism of the lack of network coverage for the February 2003 Space Shuttle Columbia disaster which occurred on a Saturday morning, forcing them to take coverage from other video wire services. Prior to that, and particularly in the early 1990s, it was not uncommon for affiliates to preempt part or all of ABC's cartoon lineup with local programming.
And I leave you with a look back at the Saturday Morning TV Schedules of the '80s from InThe80's.com to see what we've lost: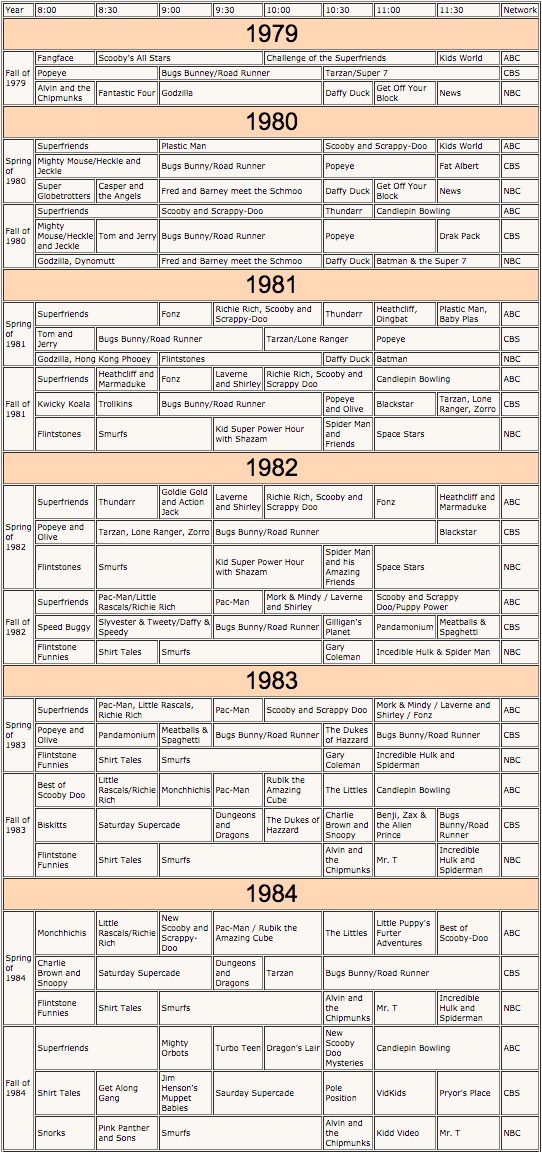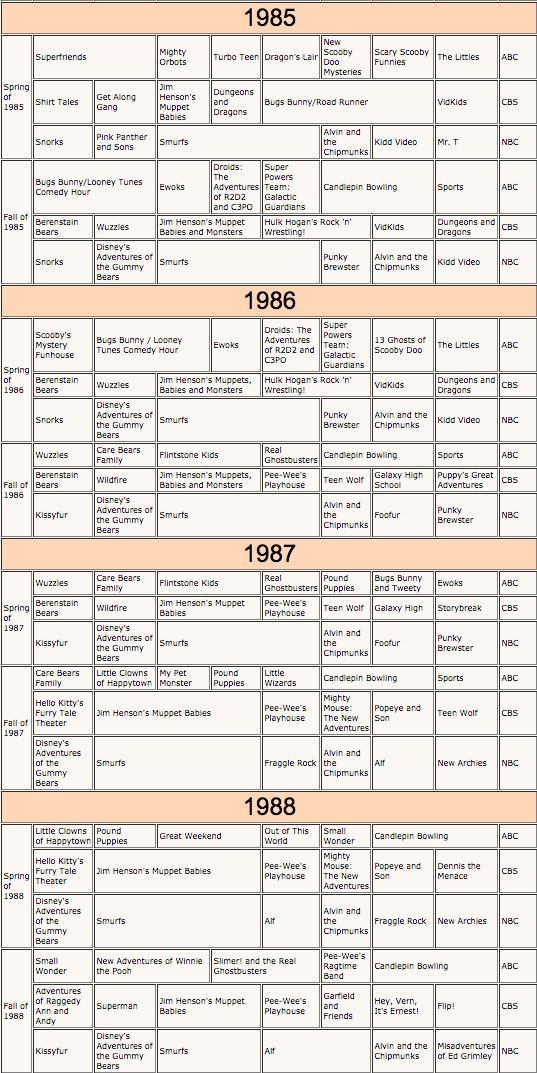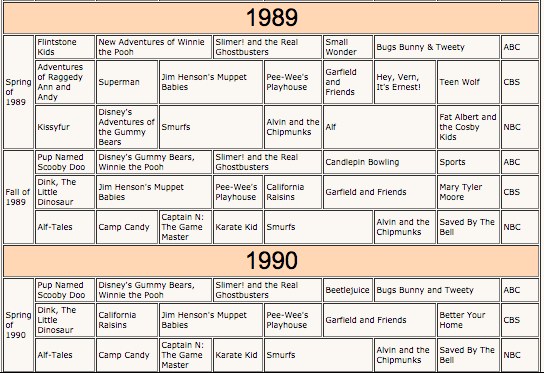 If you grew up during the 1980s or 1990s, you probably remember a few of these videos: