SNL Marvel Trailer Parody: Chris Pratt Proves Marvel Can't Fail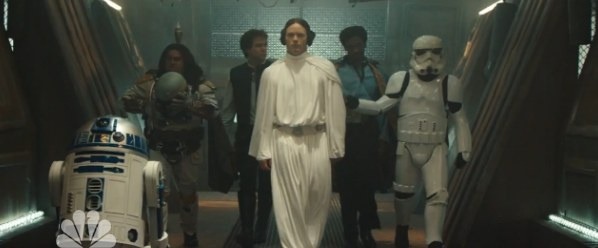 The debut of the 40th season of NBC's Saturday Night Live was broadcast over the weekend and Guardians of the Galaxy star Chris Pratt hosted the premiere episode which included a skit showing the future of Marvel movies and how the superhero studio just can't fail — no matter what they release. The trailer lampoons Ant-Man and reveals Marvel's future slate of superheroes you've never heard of, that you won't want to miss on the big screen. And as you can see in the header image above, it features a reference to the other Disney-owned mega franchise Star Wars. Watch the SNL Marvel trailer parody embedded after the jump, alongside another great skit from the episode featuring Pratt as a He-Man figure come to life.
SNL Marvel Trailer Parody
Another Toy Story: He-Man and Lion-O
Another skit on the episode revolved around the premise of a young boy wishing that his action figures would come to life. Of course, his wish is magically granted and He-Man from "Masters of the Universe" and Lion-O from "ThunderCats" appear in the kid's kitchen with Chris Pratt taking on the role of He-Man. But the Toy Story dream does not turn out as expected.