'X-Men: Apocalypse' Will Conclude 'First Class' Trilogy; Plus Timeline Clarity And New Characters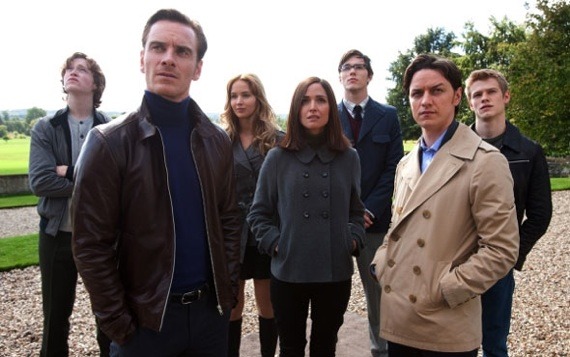 Bryan Singer, Simon Kinberg and the whole team are hard at work in pre-production on X-Men: Apocalypse. Filming starts this April up in Montreal for a summer 2016 release. The film will be set in the '80s, following the old timeline from the end of X-Men: Days of Future Past with the stars of that movie returning: Michael Fassbender, Jennifer Lawrence, James McAvoy and more. It'll be the biggest X-Men movie yet, introducing the character Apocalypse.
In a new interview, Kinberg suggests the new film might be the end of that story. The writer and producer says the creative time is looking at X-Men Apocalypse as the conclusion of a trilogy that started with X-Men: First Class. He also says new characters like Cable, Scarlet Witch and Psylocke could appear, and settles the debate about the series' timeline and which films X-Men: Days of Future Past wiped out. Read more quotes about the X-Men First Class trilogy below.
Simon Kinberg talked to Yahoo Movies about a ton of stuff in regards to the X-Men universe, all of which you can watch in this video. The pertinent X-Men Apocalypse quotes are below.
On the trilogy:
The thrust of 'Apocalypse' is really to complete the trilogy we began with 'First Class' – to complete the stories of young Raven, young Hank, younger Charles and Erik. And complete this trilogy of four people who began the films sort of disparate and in different worlds...[and who] we've followed through the span of decades. So that'll be the thrust. There will be familiar characters and new characters that we haven't seen...ever...but it'll be the completion of what we began in 'First Class'.
He said they talked about including Psylocke, Cable and a few others in Days of Future Past but the story was already too big:
[Psylocke] has a cool power. I know Bryan thinks she's a neat character so there's certainly a chance she'll be in an 'X-Men' movie some day. Hopefully there'll be a lot of 'X-Men' movies and there's lot of mutants we're yet to fully explore onscreen, even if they've had cameos before. Now we're making more films there's a chance to dig deeper.
Those two answers together have an interesting juxtaposition. They're making more movies, but Apocalypse ends the trilogy set up in First Class. Do you think Fassbender, Lawrence, McAvoy and the rest will return for whatever movie comes up after that?
Well, we do know this. Kinberg said the timeline of the current films is as follows: X-Men: First Class, the "past" part of Days of Future Past, X-Men Origins: Wolverine, X-Men, X2, X-Men: The Last Stand, The Wolverine, the future part of Days of Future Past. So, Days of Future Past changed the timeline as follows:
We changed the timeline for everything that came after 'DOFP' – so 'X-Men 1', 2 and 3, even 'The Wolverine'. So Jean [Grey] was not killed in 'Last Stand', nor was Scott, and a whole lot of other things rippled.
Head to Yahoo for even more X-Men info from Kinberg. But what do you think is going to happen after Apocalypse?