Paramount Developing Key And Peele 'Substitute Teacher' Movie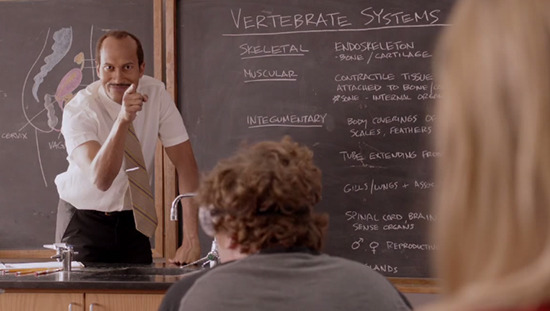 Between them, Keegan-Michael Key and Jordan Peele have a growing movie resume, but the success of their comedy show Key and Peele is bringing them new opportunities on the big screen. Key and Peele are producing the new Police Academy reboot, and seem to have a great degree of creative control on that film. They're also working on a film with Judd Apatow. And now, as the fourth season of Key and Peele premieres they're working with Paramount on a Substitute Teacher movie, bringing the show's Mr. Garvey character to the big screen.
EW talked to the duo, and Key said of the Mr. Garvey movie,
We're in negotiations at Paramount to make a Substitute Teacher movie. Two of our writers are penning it. Well, they're not penning it as we speak — it's getting there.
Here's the Mr. Garvey sketch that got a lot of attention:
Key and Peele Substitute Teacher Movie
How to make that into a movie? Obviously that's just one comic idea, but if the writers expand the idea of the guy who persistently misunderstands the culture around him into a bigger idea, there could be a lot of ground to cover.
They also talked about the new Police Academy movie they're producing. Peele explained,
We were brought on to take the creative lead with it. We got two of our friends, Ike Barinholtz and Dave Stassen [The Mindy Project] — brilliant, funny men. They're going to be penning the script. When we start working with the script and seeing it, we'll make the decision [of whether or not to be in the film]. Is Key and Peele a distraction from Police Academy? We'll figure it out. Either way, we'll make the best call for the movie.
The Judd Apatow movie is starting over with a new idea, with Key saying "There was an idea with Judd, [but] we're not doing that idea anymore. Now we're going to start from ground zero and start all over again." And Peele is developing a horror film with Darko Entertainment that he wants to direct.