'Predestination' Trailer: Ethan Hawke Travels Through Time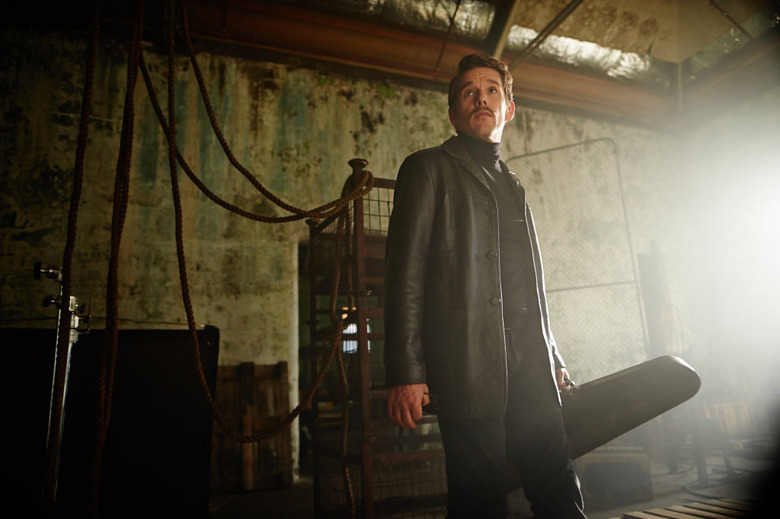 When he's not collaborating with Richard Linklater on beautifully understated indies about the passage of time, Ethan Hawke can often be found heading up thrillers. His recent genre successes include Sinister and The Purge, and now he's reteaming with his Daybreakers directors Michael Spierig and Peter Spierig for Predestination.
The time-traveling pic is based on a 1959 short story by Robert Heinlein called "—All You Zombies—" but to our modern eyes it also seems to have shades of Looper and Source Code. Hawke plays a "temporal agent" who tries to stop crimes before they happen. Watch the new Predestination trailer after the jump.
The Predestination trailer introduces the premise of the movie and offers a taste of the tone and themes, but doesn't reveal much about the actual plot of the story. That seems to be by design, as Predestination is apparently quite complicated and full of twists.
It also seems to be much weirder than it looks, based on the reviews from the festival circuit. Variety describes it as "an entrancingly strange time-travel saga that suggests a Philip K. Dick yarn by way of Jeffrey Eugenides' Middlesex, or perhaps a feature-length mash-up of Looper and Cloud Atlas." Lord knows what the even means (lots of distracting special effects makeup?) but it sounds intriguingly different.
Predestination had its world premiere at SXSW in March and has already hit Australia and New Zealand, but it doesn't yet have an U.S. release date. Sarah Snook, Noah Taylor, Madeleine West and Christopher Kirby also star.
PREDESTINATION chronicles the life of a Temporal Agent (Ethan Hawke) sent on an intricate series of time-travel journeys designed to ensure the continuation of his law enforcement career for all eternity. Now, on his final assignment, the Agent must pursue the one criminal that has eluded him throughout time.