'Gone Girl' Reveals First Clip, Four More TV Spots, And The Full Streaming Score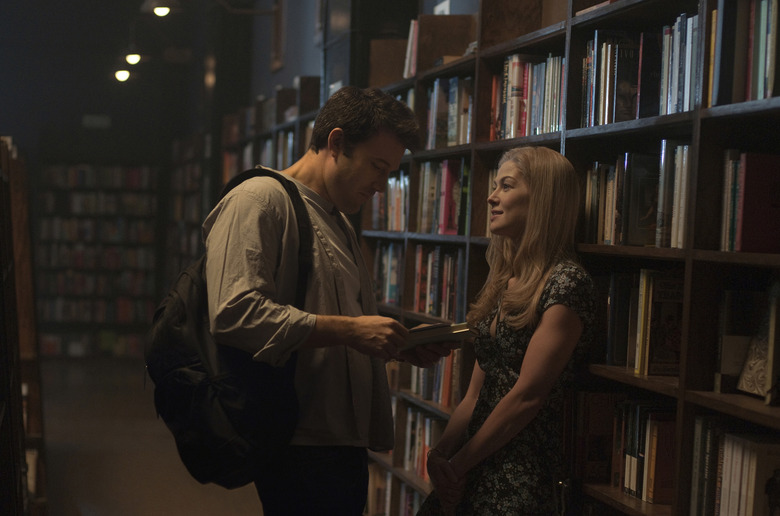 For fans of David Fincher and/or Gillian Flynn, Gone Girl became a must-see the second it was announced. But for those still on the fence — or, alternately, for those who are so eager they just need something to tide them over until the movie actually opens — Fox has tons of new marketing material to share.
Among them are the first Gone Girl clip, four new Gone Girl TV spots, and the full streaming Gone Girl soundtrack. Bury yourself in Nick and Amy's twisted world after the jump.
Eventually, however, things get bad between them. How bad? See for yourself with these four new Gone Girl TV spots.
Or, for a less revealing idea of the film's mood and tone, check out the soundtrack by Atticus Ross and Trent Reznor. One track, the disorienting "The Way He Looks At Me," was released earlier this week. Now you can listen to the whole thing streaming for free on NPR. Reznor and Fincher have said that the score was inspired by spa music and "the way that it artificially tries to make you feel like everything's OK. And then imagine that sound starting to curdle and unravel."
Gone Girl opens October 3. Also starring are Neil Patrick Harris, Tyler Perry, Carrie Coon, Kim Dickens, Patrick Fugit, Missi Pyle, and Emily Ratajkowski.
GONE GIRL – directed by David Fincher and based upon the global bestseller by Gillian Flynn – unearths the secrets at the heart of a modern marriage. On the occasion of his fifth wedding anniversary, Nick Dunne (Ben Affleck) reports that his beautiful wife, Amy (Rosamund Pike), has gone missing. Under pressure from the police and a growing media frenzy, Nick's portrait of a blissful union begins to crumble. Soon his lies, deceits and strange behavior have everyone asking the same dark question: Did Nick Dunne kill his wife?