Tim Burton Wants Asa Butterfield For 'Miss Peregrine'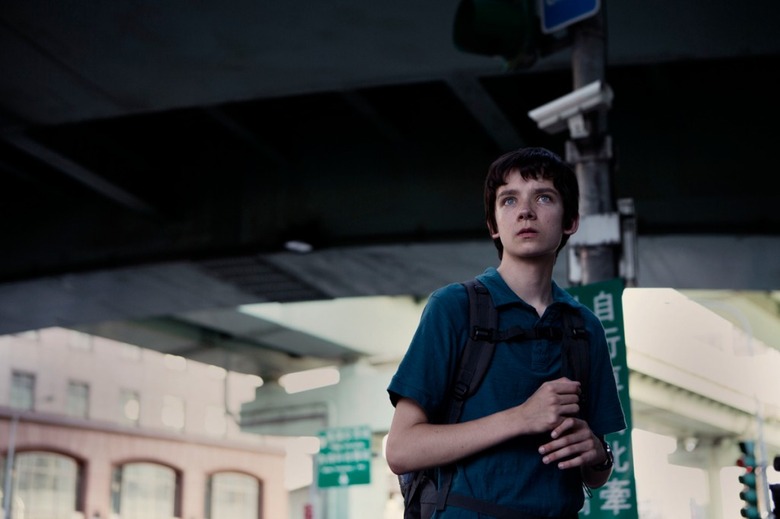 It was probably just a matter of time before Asa Butterfield caught Tim Burton's eye. The kid just looks like a Tim Burton character, with his pale skin, dark hair, skinny limbs, and big eyes. And now he may get to be one for real, as Burton is looking to cast him in Miss Peregrine's Home for Peculiar Children.
Should Butterfield close his deal, he'll join Eva Green, who previously starred in Burton's Dark Shadows. Hit the jump for more on Burton's desire to get Asa Butterfield for Miss Peregrine.
The film is based on the novel by Ransom Riggs, which hit shelves in June 2011 and quickly became a bestseller. The sequel, Hollow City, was published in January 2014. Riggs is already working on the third book in the series.
The story begins when Jacob's grandfather is murdered. During a visit to his late relative's hometown, Jacob meets a girl who can control fire, and she sends him to 1940 via a time loop. There (or rather, then) he meets Miss Peregrine and the orphans in her charge, who have supernatural abilities.
To be fair, there's probably more to Burton's interest in Butterfield than his Burton-esque looks. Butterfield is also a very capable young star, with a solid resume that includes Hugo, Ender's Game, and The Boy in the Striped Pajamas.
Butterfield hit TIFF this year with the indie drama X+Y, in which he plays an awkward math prodigy (see header image). Additionally, he's wrapped production on Shari Springer Berman and Robert Pulcini's Ten Thousand Saints, which reunites him with his Ender's Game co-star Hailee Steinfeld.
Burton last completed the biopic Big Eyes, due out this Christmas. The first trailer felt like a departure in that it centered around normal people in the normal world, but the eerie Miss Peregrine should be more in his usual wheelhouse. It's on track to shoot early next year for release on March 4, 2016.