Disney Acquires New Franchise 'Floors;' 'Willy Wonka' Set In A Hotel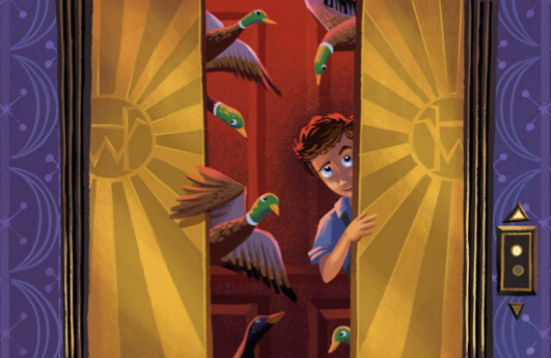 Disney is pretty stacked when it comes to established franchises. The studio has Star Wars, Marvel Studios, Pirates of the Caribbean, Frozen, Cars, and a bunch of others. That's their bread and butter. But they're always looking for the next one and may have just found it.
Disney has acquired the rights to Patrick Carman's children's series, Floors. It's basically Willy Wonka and the Chocolate Factory set a hotel, and follows a young boy is forced to save a madcap business, with new surprises on every floor, when the owner goes missing. Jason Filardi (17 Again, Bringing Down the House) pitched the series to the studio and will write the script. Read more about the Floors movie and even watch some videos below.
Deadline broke the news of the Floors movie. Here's the official description:
Charlie had his chocolate factory. Stanley Yelnats had his holes. Leo has the wacky, amazing Whippet Hotel.
The Whippet Hotel is a strange place full of strange and mysterious people. Each floor has its own quirks and secrets. Leo should know most of them; he is the maintenance man's son, after all. But a whole lot more mystery gets thrown his way when a series of cryptic boxes are left for him...boxes that lead him to hidden floors, strange puzzles, and unexpected alliances. Leo had better be quick on his feet, because the fate of the building he loves is at stake...and so is Leo's own future!
Here's a video by Carman describing more about it. You can watch more videos on his YouTube and the official site of the series.
There are currently three books in the series, which screams franchise for the studio. All the traits are there too for a four-quadrant crowd-pleaser. I'm definitely intrigued as anything that involves mystery, adventure and kids hits that nostalgia button pretty hard. Here's hoping Disney has found another winner.
Have you read Floors? Will it work as a movie?