Two 'Game Of Thrones' Stars Board 'Pride And Prejudice And Zombies'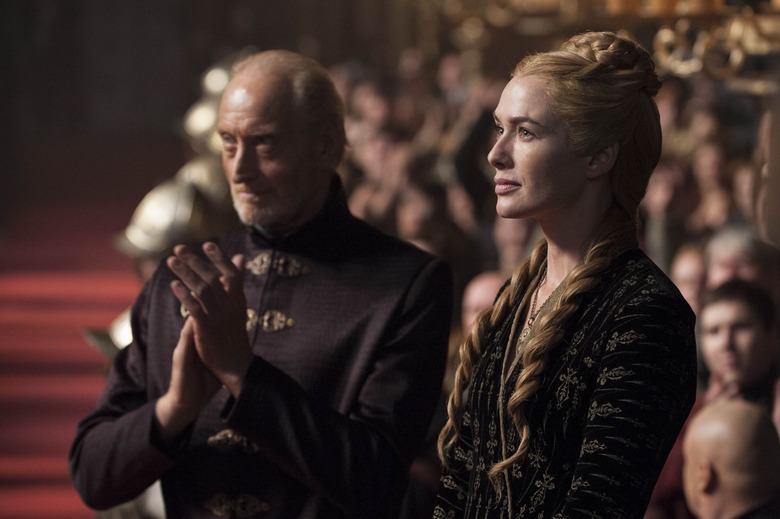 The Lannister clan has plenty to worry about already on HBO's Game of Thrones, but now two of them are about to face a threat possibly even greater than Daenerys' dragons or Melisandre's shadow monsters: Regency-era zombies.
Charles Dance and Lena Headey, who play Tywin and Cersei respectively, are set for the cast of Pride and Prejudice and Zombies. As the title indicates, it's an adaptation of Jane Austen's Pride and Prejudice... plus zombies. More on the Game of Thrones Pride and Prejudice and Zombies casting after the jump.
Dance and Headey join a cast that's already heavy on TV vets, including Matt Smith (Doctor Who), Jack Huston (Boardwalk Empire), and Lily James (Downton Abbey). Bella Heathcote, Sam Riley, Douglas Booth, and Suki Waterhouse also star.
There's no word yet on which roles Dance and Headey will take. Dance seems likely to play Mr. Bennet, as that's the only major male role remaining to be cast. For Headey, there are a few other possibilities including Lady Catherine de Bourgh and Charlotte Lucas, though she's not quite the right age for either.
My hope, though, is that Headey has been cast as Mrs. Bennet — Dance's wife. The film is already introducing zombies to a beloved literary classic, after all. Why not throw some Westerosi-style incest into the mix while they're at it?
Like Austen's original story, Pride and Prejudice and Zombies centers on headstrong heroine Elizabeth Bennet (James). She meets and develops an immediate dislike for wealthy, handsome Fitzwilliam Darcy (Riley), but after a series of events comes to fall in love with him. It's just that in this telling, said events include fighting off hordes of the undead.