'Ouija' Trailer: "I Don't Think This Is A Good Idea"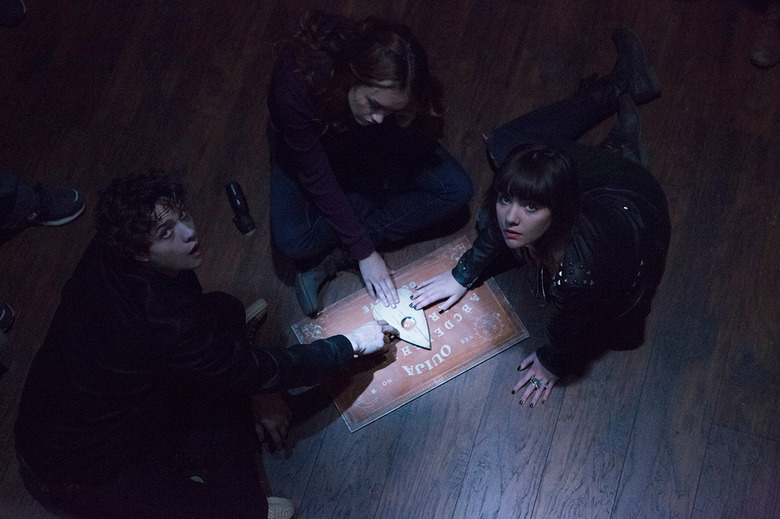 Board game movies aren't quite as common now as we might have guessed a few years ago, when Hasbro put about a million of them into development. But they aren't entirely dead. There's one coming this fall based on the slumber party staple Ouija, from Knowing writers Juliet Snowden and Stiles White.
While that admittedly sounds terrible in theory, the new Ouija trailer offers hope that it could be quite a bit better than the phrase "board game movie" would suggest. Watch the Ouija trailer after the jump.
[via Movies Coming Soon]
The Ouija trailer looks genuinely creepy to me, though admittedly that may have less to do with the movie itself and more to do with my personal childhood fear of Ouija boards. Can you blame me? Those things are eerie.
The promo does seem rather revealing, but a line about how "it's not even real" may suggest that some of the scares are just illusions. Hopefully that means the movie has even nastier surprises up its sleeve. Mostly, it plays like a darker twist on Jumanji, as the kids keep yelling that the only way out of this horrific situation is to keep playing.
Ouija opens just ahead of the spookiest day of the year, on October 24. Olivia Cooke, Douglas Smith, and Bianca Santos star.
In Ouija, a group of friends must confront their most terrifying fears when they awaken the dark powers of an ancient spirit board. Stiles White directs the supernatural thriller that is produced by Platinum Dunes partners Michael Bay, Andrew Form and Brad Fuller (The Purge, The Texas Chainsaw Massacre, Friday the 13th) alongside Blumhouse Productions' Jason Blum (Paranormal Activity and Insidious series, The Purge), Bennett Schneir (Battleship) and Hasbro. Juliet Snowden and Stiles White wrote the script for Ouija, and Universal will distribute the film worldwide.