2014 MondoCon Recap: Take A Trip Through Movie Poster Nirvana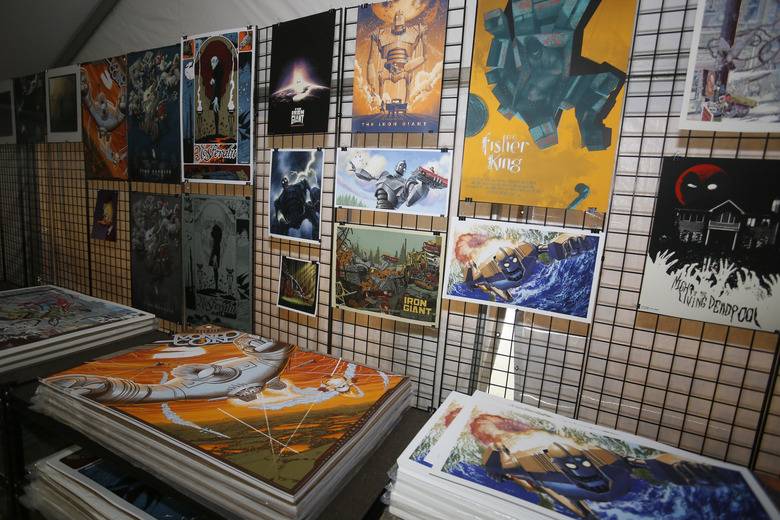 Ask a film fan and they'll say Fantastic Fest is the best film festival in the world. An experience so unique and exciting, there's almost no way it could be improved.
That is, until organizers added MondoCon.
MondoCon is a sister convention put on by the team known for their highly collectible and sought-after posters. The aim was to do a convention that celebrated all things Mondo (art, posters, toys, movies, comics) but do everything differently from other conventions. To create an experience that would be really fun for fans and non-fans alike. After attending for two days, I can safely say they succeeded — but not in the ways one may think.
So many criticize Mondo for the culture they've helped create with their low-supply, high-demand posters. There are valid arguments on both sides, but with MondoCon the team did their best to move away from that. It wasn't a convention that was only about buying posters. (Though you could, of course, buy lots of posters.) MondoCon was more about community and communication. It was a venue for fans to interact with their favorite artists and other fans, and revel in the controlled geekiness.
However, at the start of MondoCon no one knew that. In fact, we knew very little at all. Below, read our full MondoCon recap.

Like most things Mondo, MondoCon started off very mysterious. Artists who had booths on the floor of the con had been revealing some of what they'd be selling for weeks, but Mondo itself kept largely quiet. This led to wild speculation about what they'd have for sale. Would it be the next big print by an even bigger artist? Some new property? A poster so exciting flippers could put it on eBay and immediately quadruple their money?
That mystery led me to arrive at the The Marchesa Hall & Theater in Austin, TX about three hours before opening on Day 1. I was number 86 in line, a good place to snag anything Mondo had up their sleeves. (Click the image above to see the huge line). We passed the time chatting about posters, speculating about the weekend's unannounced surprises, and looking for coffee. Finally, when the doors opened and fans dispersed either into the exhibit hall or the Mondo tent on the side, we saw this.
That's a menu for the Mondo booth itself. A list of everything they had on sale. And as a hardcore fan, it was a bit disappointing. The Iron Giant is wonderful and those pieces are absolutely gorgeous, but Mondo's done The Iron Giant before. Both Terry Gilliam prints are excellent as well, but not for me. The same goes for the comic book stuff. There simply wasn't a big print that you'd be able to brag to your friends about. And in that, I have to admit, I was bummed.
I was even more disappointed when I went from there into the convention hall and was stopped in my tracks because of the lines. How was that even possible? There were only a few hundred people who had lined up. How could the entire place be completely full?
Turns out, this was just a hiccup. The unexpected influx of people to only a select few of the dozens of booths created something of a bottleneck many of the volunteers weren't ready for. After an hour or so controlling the madness, things began to calm down and that's when MondoCon really blossomed. The fans there to buy specific things from specific artists had their fill and were now just wandering. Lines were shorter, everyone was more relaxed, and the time of day made grabbing a beer at the bar in the hall more acceptable.
I began to walk around and talk to the artists. People like Daniel Danger and JC Richard, who've done amazing work in the past. I picked up one of Richard's gorgeous Indiana Jones pieces and I cursed him when he told me he wanted to do three for each movie in the original trilogy.
I saw the live screenprinting of some very cool posters we premiered on this very website, and then made my way around to Kevin Tong's booth. We talked about the Con and then he said, "Germain, do you know Aaron?" To my left was one of my favorite artists – Aaron Horkey. Horkey is of the few artists I regularly collect but have never met. We shook hands, I geeked out a bit and he seemed appreciative. I then went a step further and took out my phone. I showed him photos of my collection, specifically my collection of his prints, and he was flattered. He then noticed the stupid amount of art on my walls and wanted to see more. So I showed him and he laughed. I walked away like a kid who'd just met one of his heroes and instantly, any disappointment from the morning was gone. This was what MondoCon was all about, and I hadn't yet even visited the second room or watched a panel.
The second room was even busier thanks to the awesome art of Mike Mitchell, Jay Shaw, Scott C, Jock, Bryan Lee O'Malley, Mike Mignola, Val Mayerik and so many others. Mitchell's booth in particular had at least an hour wait from open to close Saturday and Sunday. The others were also selling cool art, merchandise, signing autographs and doing personalized sketches.
As the first day wound down, fans got ready for the evening's two screenings, Ghost in the Shell and Total Recall, with the two amazing prints below. Everyone was hanging out in the lobby bar, drinking, chatting. And there, sitting down on a bench doing free sketches for people, was the elusive and talented Aaron Horkey. Word quickly spread and fans flocked in not only at the chance for a sketch, but simply to watch the master at work. It was a special, one of a kind moment only possible at MondoCon. Below, there's a pic of Horkey sketching and an example of what fans got.
On the way out on day one I spoke to Rob Jones, the creative director of Mondo. He asked me point blank if I had any complaints. I told him about the lack of a blockbuster poster to which he responded, "That's like forcing a #1 single on an album." In most cases, things like that happen organically based on quality. He did tease, however, that what they're already working for next year would satisfy that craving.
Day two was more of the same. Walk around, interact, do some of the events I wasn't able to do day one. One example was the Shaun of the Dead LP booth where you had to toss records at zombie targets. The more zombies you "killed," the more rare the resulting LP would be. I threw six and didn't hit one. I stink.
The majority of the day, though, was spent in panels, one of which you can read about here. The other was artist and production designer William Stout presenting a movie he worked on that never got made: Godzilla 1983 written by Fred Decker and directed by Steve Miner.
Via a slide projector, Stout took us through the entire movie, scene by scene. He introduced characters, the big action beats, and more. It was incredibly interesting to see all the work that went into this film that never happened. The reason behind the permanent stall was, at the time, several big budget films (most famously Heaven's Gate) bombed, so the studio was weary of any more big movies. Oh, how times have changed.
When I finally made it back to Fantastic Fest, lots of people asked me about MondoCon. They heard it was too crowded, heard the posters weren't that good, and I told them they'd heard lies.  Justin Brookhart, Mo Shafeek, Charity Francis and the rest of the Mondo team did an amazing job with the organization and flow. The lines were only long very early in the morning. The posters were especially great at the screenings and on the convention floor. The beer was potent and delicious. And the consensus among poster fans who only flew in for the event was it was a success. Something they'd be travelling back to next year. This poster fan concurs wholeheartedly.
Here are some more photos from this year's MondoCon.