'The Tale Of Princess Kaguya' U.S. Trailer: Studio Ghibli Spins A Gorgeous Fairy Tale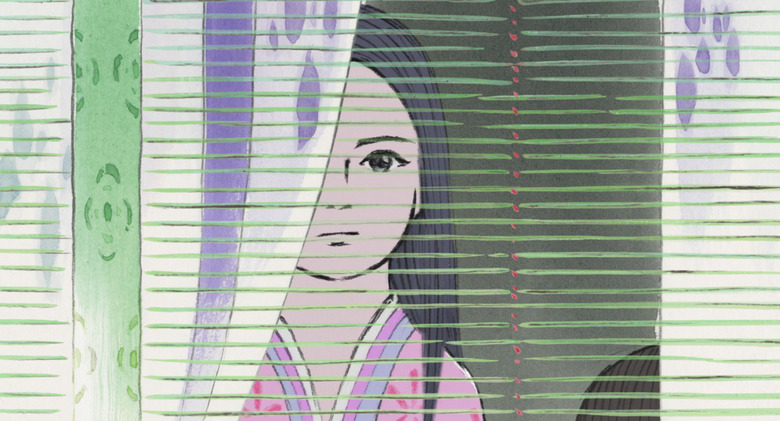 Studio Ghibli is back this year with another gorgeous feature. Based on the classic Japanese folk tale The Tale of the Bamboo Cutter, The Tale of the Princess Kaguya spins a fantastical story about an older couple who find a tiny child inside a special bamboo stalk. She grows into a famous beauty, attracting all manner of suitors.
Chloe Grace Moretz leads the English-language voice cast as the title character, with Mary Steenburgen and James Caan playing her adopted parents. Watch the first The Tale of the Princess Kaguya US trailer after the jump.
[via JoBlo]
The all-star English-language voice cast feels like an awkward fit for the stripped-down aesthetic, but maybe that's just the trailer. The Tale of the Princess Kaguya is, if nothing else, absolutely stunning to look at. The visuals look deceptively simplistic, even humble, but evoke a rich and powerful response.
Directed by Isao Takahata, The Tale of the Princess Kaguya opens October 17. Darren Criss, Lucy Liu, Beau Bridges, Daniel Dae Kim, James Marsden, Oliver Platt, John Cho, George Segal, and Dean Cain also lend their voices to the American release of the film.
Legendary Studio Ghibli cofounder Isao Takahata (Grave of the Fireflies, Pom Poko) revisits Japan's most famous folktale in this gorgeous, hand-drawn masterwork, decades in the making. Found inside a shining stalk of bamboo by an old bamboo cutter (James Caan) and his wife (Mary Steenburgen), a tiny girl grows rapidly into an exquisite young lady (Chloë Grace Moretz). The mysterious young princess enthralls all who encounter her – but ultimately she must confront her fate, the punishment for her crime.
From the studio that brought you Spirited Away, My Neighbor Totoro, and The Wind Rises comes a powerful and sweeping epic that redefines the limits of animated storytelling and marks a triumphant highpoint within an extraordinary career in filmmaking for director Isao Takahata.