'Better Call Saul' Teaser: Can I Get An Amen?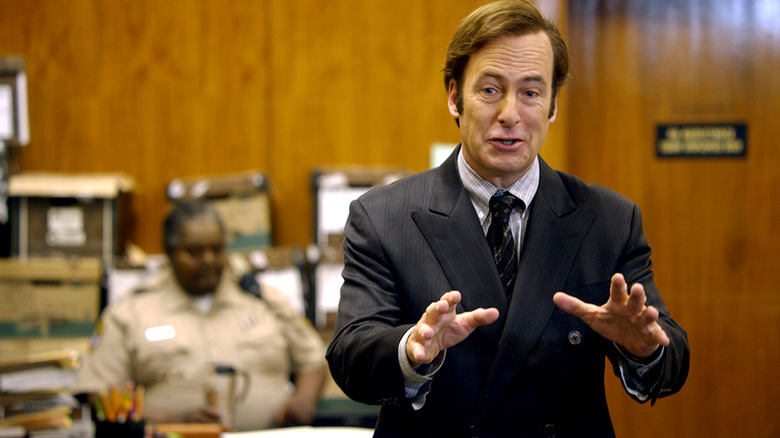 The TV schedule will be jam-packed with new shows for the next few weeks, some much more promising-looking than others. However, even within that crowded slate there's one highly anticipated project that'll be conspicuously absent. The Breaking Bad spinoff Better Call Saul doesn't premiere until early next year, which means we've got several months to wait still.
But of course, AMC would rather you didn't forget about it in the meantime. So the network has debuted another brief Better Call Saul teaser, hinting that even before Jimmy McGill (Bob Odenkirk) remade himself as Saul Goodman, he had a whole lot of Saul Goodman in him. Hit the jump to see the latest Better Call Saul teaser.
It's not much, really. The whole spot is just 10 seconds long, with a mere 4 total seconds of footage. And it definitely doesn't answer the big question posed by the series itself:
"What kind of problem do you have that becoming Saul Goodman solves it?"
But it does accomplish its purpose, which is remind us that this show is a thing that's happening and that we can't wait to see it. Tonally it looks very different from Breaking Bad, and that's a good thing — it makes Better Call Saul look genuinely exciting new series, rather than just a weak retread of older material.
Better Call Saul will debut on AMC in February 2015. Michael McKean and Jonathan Banks will also star.
The series is set six years before Saul Goodman meets Walter White. When we meet him, the man who will become Saul Goodman is known as Jimmy McGill, a small-time lawyer searching for his destiny, and, more immediately, hustling to make ends meet. Working alongside, and, often, against Jimmy, is "fixer" Mike Ehrmantraut, a beloved character introduced in 'Breaking Bad.' The series will track Jimmy's transformation into Saul Goodman, the man who puts "criminal" in "Criminal lawyer." The series' tone is dramatic, woven with dark humor.