Charles Dance Teases Tywin Lannister's Return In 'Game Of Thrones' Season 5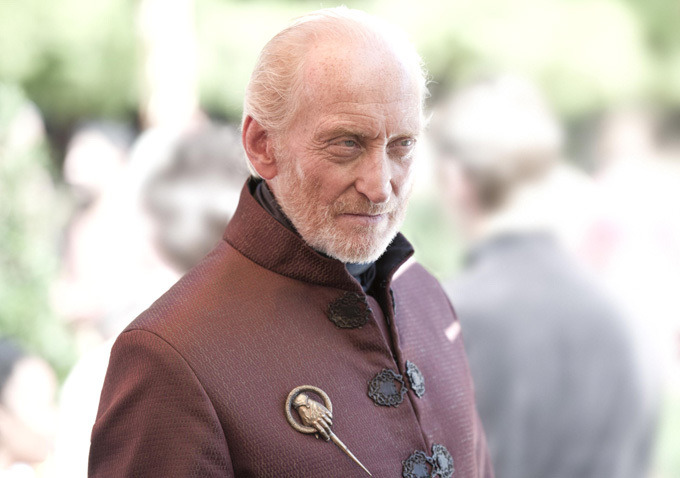 As we wait to see whether Isaac Hempstead-Wright (Bran) and Kristian Nairn (Hodor) will make it into Game of Thrones Season 5, another actor is eagerly teasing his return. Charles Dance recently dropped some potential clues about the return of Tywin Lannister next season, which... well, let's just put a big fat Game of Thrones Season 4 spoiler alert right here and continue the discussion after the jump.
If you're caught up on Game of Thrones (and if you've made it this far you definitely should be, because I warned you there'd be spoilers), you no doubt recall that Tywin Lannister met a shitty end in the Season 4 finale. Like, literally shitty. He was in the privy when his much-hated son Tyrion (Peter Dinklage) burst in and shot him with a crossbow.
Tywin sure looked dead after that, but Dance has suggested to MTV UK that the character could yet make an appearance in Season 5. "Well, I'm not completely missing out on the next series. More than that, I'm not going to say." He laughed, then continued: "You haven't seen the last of Tywin Lannister, is all I'll say."
This could simply mean that Dance will be back as a corpse, just as Jack Gleeson played dead for Joffrey's funeral scene in Season 4's "Breaker of Chains." (According to Gleeson, he "just got to sleep all day" on set for that episode.) But we're certainly wondering if there could be more to it than that.
One theory is that Dance will return for a flashback — though given that the show has avoided using flashbacks so far, that doesn't seem terribly likely. It's more plausible he'll reappear in a vision or dream sequence, as Jason Momoa's Khal Drogo did in the Season 2 episode "Valar Morghulis."
But the most intriguing possibility is that the series may be looking to deviate even further from the books. It's already been established that people can return from the dead in the Game of Thrones universe, after all. If that's the case, your guess is as good as mine as to exactly what Dance will be doing next season.
Game of Thrones returns to HBO next year for Season 5. Here's the MTV UK interview below. It's kind of worth a look just for the bizarre sight of Tywin Lannister in a t-shirt.