Listen To A Preview Of Trent Reznor And Atticus Ross' 'Gone Girl' Soundtrack, Plus: New Pics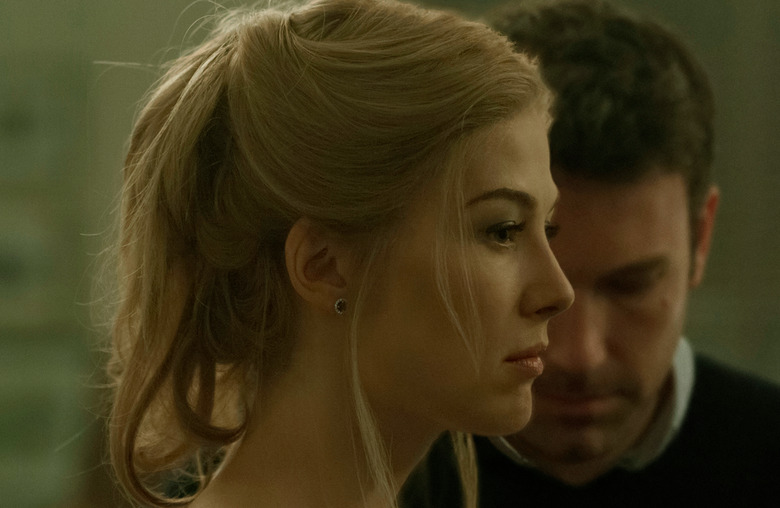 It was only a few years ago that Trent Reznor and Atticus Ross began composing scores, but already they've come to feel like a staple of David Fincher's films. The dynamic duo are at it again this year with Gone Girl, and in keeping with the twisted feel of the movie the first track released from the Gone Girl soundtrack is eerie and kind of off-putting. In a good way.
Hit the jump for the Gone Girl soundtrack preview, plus a big gallery of new high-res pics from the thriller.
That's not exactly a sweet, simple melody, but it seems to suit the tone of the film quite well. In an interview with the Wall Street Journal, Reznor recalls the instructions Fincher gave him. "He said, 'Think about the really terrible music you hear in massage parlors,'" Reznor said. "The way that it artificially tries to make you feel like everything's OK. And then imagine that sound starting to curdle and unravel."
Fincher insists that he "said a spa, not a massage parlor!" and explains where he got the inspiration: "I was listening to that calming, placating music and thought, we need to tap into this. The movie is about the facade of the good neighbor, the good Christian, the good wife. So the notion was to start with music that's attempting to give you a hug."
Gone Girl lands in theaters October 3. Ben Affleck and Rosamund Pike star.
GONE GIRL – directed by David Fincher and based upon the global bestseller by Gillian Flynn – unearths the secrets at the heart of a modern marriage. On the occasion of his fifth wedding anniversary, Nick Dunne (Ben Affleck) reports that his beautiful wife, Amy (Rosamund Pike), has gone missing. Under pressure from the police and a growing media frenzy, Nick's portrait of a blissful union begins to crumble. Soon his lies, deceits and strange behavior have everyone asking the same dark question: Did Nick Dunne kill his wife?