Early Buzz: David Fincher's 'Gone Girl' Is Smart, Twisty, And Surprisingly Funny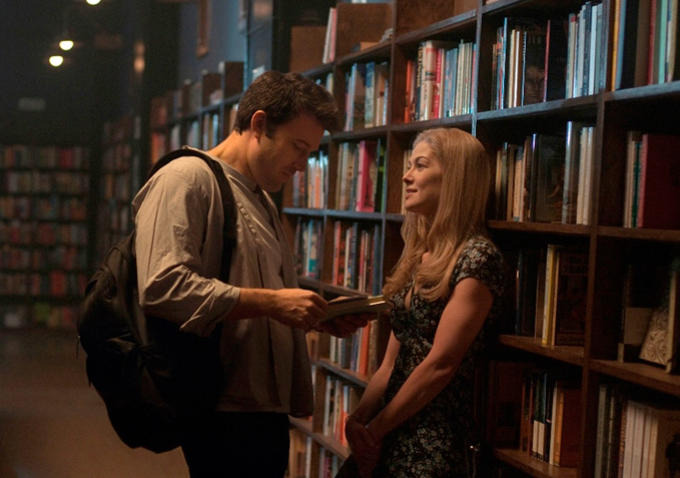 Gillian Flynn's Gone Girl was one of the most talked-about novels of 2012 — and now David Fincher's adaptation of it could become one of the most buzzed-about movies of 2014, if the first wave of reviews are to be believed.
The first wave of reactions are mostly, though not entirely, positive, with critics praising Ben Affleck and Rosamund Pike's lead performances as well as David Fincher's pitch-black sense of humor. Hit the jump to get the Gone Girl early buzz.
The current reviews range from five-star ovations to disappointed shrugs, with most falling closer to the former end of the spectrum than the latter. Those still rooting for Affleck's comeback as a bona fide movie star (and not just a respected director or reliable tabloid fixture) should be especially pleased, as he's getting singled out for praise. Without further ado, take in the Gone Girl early buzz below.
In full accord w/ @justincchang: GONE GIRL is an exhilarating, pitch-black marital comedy; Fincher's EYES WIDE SHUT; the movie of the year.

— Scott Foundas (@foundasonfilm) September 22, 2014
A lady vanishes and is soon presumed dead, but it's her marriage that winds up on the autopsy table in "Gone Girl," David Fincher's intricate and richly satisfying adaptation of Gillian Flynn's 2012 mystery novel. Surgically precise, grimly funny and entirely mesmerizing over the course of its swift 149-minute running time, this taut yet expansive psychological thriller represents an exceptional pairing of filmmaker and material, fully expressing Fincher's cynicism about the information age and his abiding fascination with the terror and violence lurking beneath the surfaces of contemporary American life. Graced with a mordant wit as dry and chilled as a good Chablis, as well as outstanding performances from Ben Affleck and a revelatory Rosamund Pike, Fox's Oct. 3 wide release should push past its preordained Oscar-contender status to galvanize the mainstream.
Not only brutal but also brutally funny, "Gone Girl" mixes top-notch suspenseful storytelling with the kind of razor-edged wit that slashes so quick and clean you're still watching the blade go past before you notice you're bleeding.
Transformed into the kind of wickedly confident Hollywood thriller you pray to see once in a decade, Gillian Flynn's absorbing missing-wife novel emerges—via a faithful script by the author herself—as the stealthiest comedy since American Psycho. It's a hypnotically perverse film, one that redeems your faith in studio smarts (but not, alas, in local law enforcement, tabloid crime reporting or, indeed, marriage). No secrets will be revealed here, apart from an obvious one: Director David Fincher, also the maker of Seven, Zodiac and The Social Network, is more than just your everyday stylish cynic.
When a plot is this fevered, good casting is crucial. Happily Gone Girl sets out from sound first principles, neatly juggling Pike's unreadable sugar-frosted beauty with Affleck's foursquare, alpha-male cockiness. Small wonder Nick soon finds himself derided as "the most hated man in America": Affleck is never better than when he is playing the louse. He's altogether too pleased with himself; his grin is too smarmy. He is saying one thing, while his face tells us another. If an enterprising producer ever saw fit to cast Affleck in a biopic of Archbishop Desmond Tutu, it's a safe bet that half the audience would instantly start suspecting him of plotting to murder his flock and keep Mandela in jail.
Those who tore through Gillian Flynn's source novel (she returns here as sole screenwriter) will recognize the twists and turns in this faithful translation, but that doesn't detract from the finished product – it's as much about the journey as the destination, and the Gone Girl movie grabs you in its vice-like grip from the opening seconds and doesn't let go. There are moments in this film that will make your jaw drop in shock and horror.
I never thought I'd write these words, but [Affleck] carries the movie. He's terrific. Fincher exploits—and helps him ­transcend—his most common failing, a certain handsome-lug lack of commitment. Affleck shows intelligence and sensitivity in interviews, and I sense that as he has gotten older (and become a slick director), he has worked harder to look serious, sincere, and engaged onscreen. But some part of him holds back, and that's the part on which Fincher homes in.
Just as the emotions are stripped back and raw, so Fincher's work is equally unshowy. The fanboys may pine for the coffee-pot shot bravura of Panic Room or the speeded-up rowing race set-piece of The Social Network, but this is the director working without flash and thunder, confident his narrative has more than enough. Still, working with regular DP Jeff Cronenweth, he pulls out subtly arresting images — Amy floating on a lilo in a swimming pool — that speak less to flair and more to style. Gone Girl's filmmaking M.O. is cold, controlled and clinical. It doesn't have a hair out of place.
THR:
This is one instance in which a writer won't be able to complain about what the movies have done to her book. With a screenplay by the novelist herself, David Fincher's film of Gone Girl, Gillian Flynn's twisty, nasty and sensational best-seller, is a sharply made, perfectly cast and unfailingly absorbing melodrama. But, like the director's adaptation of another publishing phenomenon, The Girl With the Dragon Tattoo, three years ago, it leaves you with a quietly lingering feeling of: "Is that all there is?"
Still, it's hard to shake the notion that [Fincher] could be doing something more rewarding than becoming the preeminent director of airport-novel adaptations, a trajectory that's all the more disappointing after the trifecta of "Zodiac," "The Curious Case of Benjamin Button," and "The Social Network."
Fincher likely prides himself on turning coal into diamonds at this point, but Flynn's script can feel so retrograde at times that one wonders whether it might have been better served by a De Palma, Bigelow, or even a Verhoeven — which is to say, a filmmaker less concerned with making the lascivious seem prestigious. (It's doubtful anyone else could have filmed a certain blood-soaked scene with such unsettling verve, however.)
Gone Girl opens October 3.