Star Wars Rebels: Spark Of Rebellion Trailer [Update: See The TV Movie Three Days Early]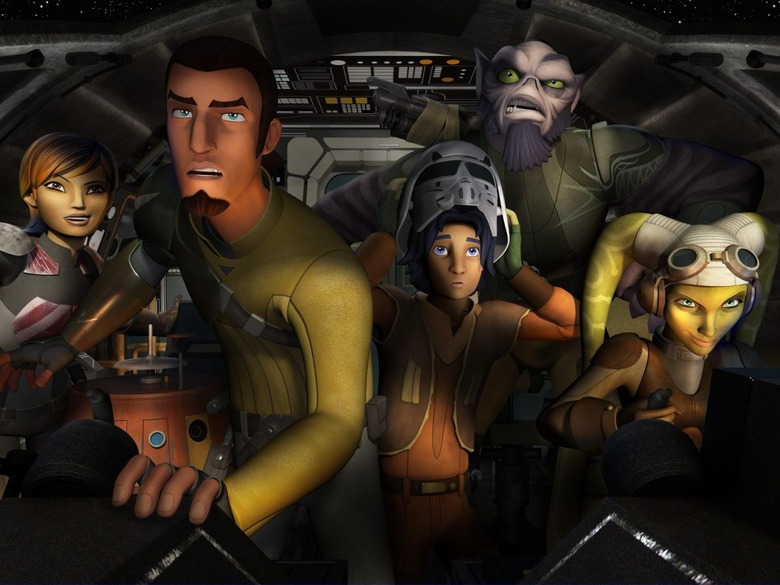 Update: Disney XD has announced that Star Wars Rebels: Spark of Rebellion will premiere three days earlier, on Friday, September 26 2014 for verified users of WATCHDisneyXD.com and the WATCH Disney XD app for smartphones, tablets and connected TVs.
The new date will give verified WATCH Disney XD viewers a seven-day exclusive window to watch Star Wars Rebels before the global television debut Friday, October 3 (9:00 p.m., ET/PT in the U.S.) on Disney Channels around the world, ushering in the series beginning Monday, October 13 (9:00 p.m., ET/PT) on Disney XD.
The original story from September 22nd 2014 follows:
A week before its television premiere, Disney XD has released a new trailer for Star Wars Rebels: Spark of Rebellion, the television movie debut of the new Star Wars Rebels animated series. Watch the new Star Wars Rebels: Spark of Rebellion trailer embedded after the jump.
I loved the Star Wars Rebels: Spark of Rebellion which I got to preview with Germain during Comic Con. I never really got into Star Wars: The Clone Wars, but Star Wars Rebels feels much more like the Star Wars I grew up with and fell in love with. I'm very excited to watch this animated series and see where it goes. We know that it is officially considered Star Wars canon, and producer Simon Kinberg has even hinted that it could connect with Star Wars Episode VII and future movies in interesting ways, perhaps even introducing new characters that we might meet in live-action.
Disney has also released a series of character focused short films to get fans excited for the new series, which you can see here.
Here is the official description of the series from Disney XD:
Star Wars Rebels continues the epic tradition of the legendary Star Wars saga with all-new exciting, action-packed adventures.   It is a dark time in the galaxy, as the evil Galactic Empire tightens its grip of power from world to world.  As the series begins, Imperial forces have occupied a remote planet, ruling with an iron fist and ruining the lives of its people.  The clever and motley crew of the starship Ghost is amongst a select few who are brave enough to stand against the Empire. Together, this ragtag group will face threatening new villains, encounter colorful adversaries, embark on thrilling adventures and become heroes with the power to ignite a rebellion.
The Star Wars Rebels: Spark of Rebellion television movie premieres Friday, October 3rd 2014 at 9:00 pm on the Disney Channel.