'Supergirl' TV Series Lands At CBS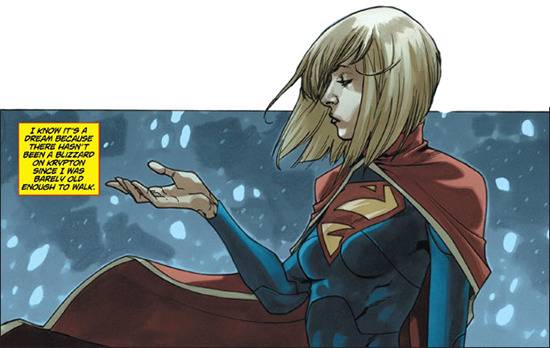 Supergirl is coming to CBS. The network has just landed the DC Comics adaptation, which is being executive produced by Greg Berlanti (Arrow) and Ali Adler (No Ordinary Family).
The pickup means that, if all goes well, four of the five broadcast networks will airing shows based on DC characters next season. The fifth, ABC, will still be in the costumed-hero game, with Marvel's Agents of S.H.I.E.L.D. and Agent Carter. Hit the jump for the latest on the Supergirl TV show.
The hourlong drama will center around Kara Zor-El. Like her cousin Superman, she was born on the planet Krypton but managed to escape just as it was destroyed. She's spent much of her life on planet Earth trying to hide her powers but now, at the age of 24, has decided to embrace her abilities for good.
The character was previously played by Laura Vandervoort on The CW's Superman prequel series Smallville. The news is especially exciting coming amid calls for a prominent female superhero on screen. Many attempts have been made recently to adapt Wonder Woman for film or TV but no one's quite cracked it yet.
While Marvel Studios continues to run circles around Warner Bros. and DC on the big screen, DC is ahead of Marvel on the small one. DC has three new shows debuting this fall: Fox's Gotham, NBC's Hellblazer, and The CW's Flash, which joins Arrow now entering its third season.
That could eventually change as Marvel has Agent Carter and four Netflix series lined up including Daredevil. Meanwhile, there are also non-Marvel, non-DC superpowered shows coming including PlayStation Network's Powers, based on the Brian Michael Bendis and Michael Avon Oeming series.
Discuss: Let the fantasy-casting begin...