'Low Down' Trailer: John Hawkes Is A Bad Dad To Elle Fanning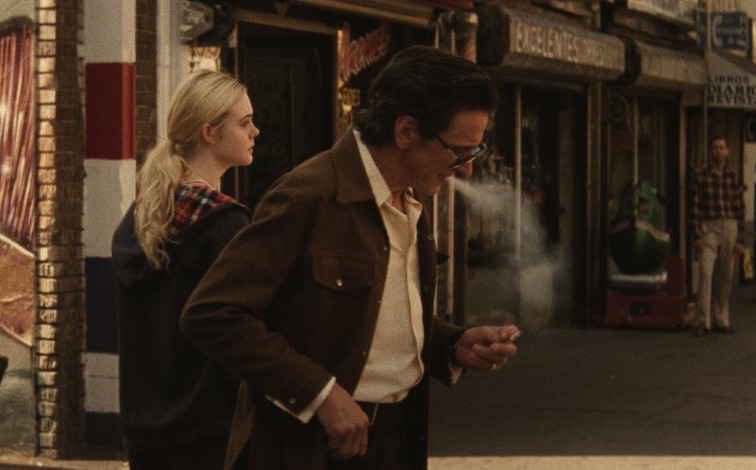 It's been a bad year for Elle Fanning and cinematic father figures. Her Maleficent dad sent her away as a baby, and her Boxtrolls dad mostly just neglects her. Her streak will continue with Low Down, in which John Hawkes finds himself torn between his love for her, his passion for music, and his addiction to heroin.
Directed by Jeff Preiss, the indie drama debuted at Sundance this year and is now headed for a theatrical release thanks to Oscilloscope. Also starring are Glenn Close, Taryn Manning, Flea, Lena Headey, and Peter Dinklage – which means we might actually get to see the two Lannister sibs share a scene without trying to kill each other. Watch the first Low Down trailer after the jump.
If nothing else, that cast promises some performances worth watching. Low Down got not-great reviews at Sundance, but THR reported in June that the film had undergone extensive recuts since then. "We got it done based on an arbitrary date on a calendar," admitted Preiss.
The changes are relatively subtle but, Preiss hopes, effective. "I think there must be over a thousand changes," he said. "By trimming back and making certain beats a little briefer it made the languidness of other sections of the film seem more purposeful. The result is the languid moments become more powerful in their atmosphere by virtue of being surrounded by scenes that are paced sharper."
Low Down opens October 24 in New York, October 31 in Los Angeles, and a bunch of other cities throughout November.
Based on the memoir by Amy-Jo Albany, LOW DOWN is a compassionate, tender look at the complex relationship between Amy-Jo (Elle Fanning) and her father Joe (John Hawkes), a man torn between his musical ambition, his devotion to his teenage daughter, and his suffocating heroin addiction. Set against a sensuously textured 1970s Hollywood, the film beautifully evokes a colorful, seedy world of struggling musicians, artists, and vagabonds, in which Joe and Amy-Jo strive to live the lives they want against seemingly insurmountable odds.