LOL: 'Dredd: The Musical' Is The Latest Plea For A 'Dredd' Sequel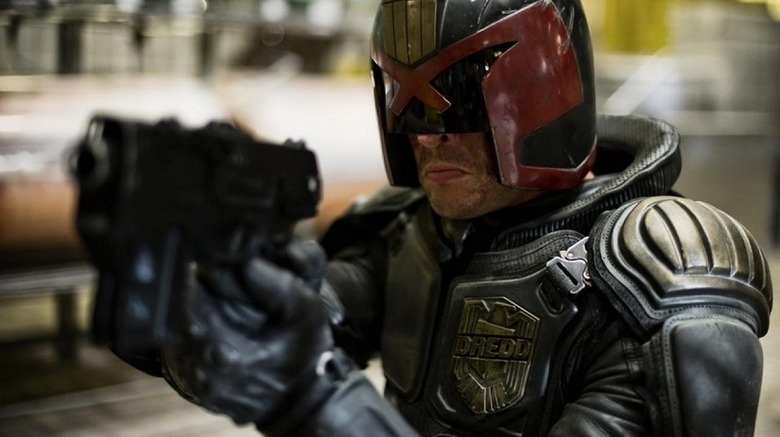 Peter Travis' 2012 film Dredd is just one of those things, a film adored by fans, and even some critics, but totally ignored by mainstream audiences. So a $50 million budgeted film ended up grossing a frightening $13 million domestic and only another $22 worldwide.
With those kind of numbers, the only time the word "sequel" would get mentioned is, well, never. Yet fans and the people involved with the film keep pushing. An online petition was created to stump for another movie. The filmmakers swore there were talks with the studio. Then they made a comic book to continue the story. Still, no one is satisfied.
Enter Jon and Al Kaplan, the well-known parody duo behind such hits as Silence! The Musical. They've taken to YouTube with their own brand of sequel pleading. They've created Dredd The Musical, a funny and clever video fans will love. Check it out below.
Here's Dredd the Musical. Thanks to THR for the heads up:
So what are the odds Dredd 2 will happen? Let's put it this way. You probably have a better chance of seeing more songs in Dredd The Musical. Producer Adi Shankar tried to curb expectations a few months back when he said the following:
I'm going to tread lightly here. I feel like Karl made a small statement that got blown way out of proportion by news sites. Yeah there are conversations going on (about making Dredd 2), but I wouldn't automatically go like, 'Oh there's conversations going on, so when's the release date?' When there's no fucking script.
So there's that. And until someone pays someone to write a script, and that script gets producers excited and confident they can right whatever wrongs happened in marketing for the 2012 film, Dredd 2 will remain a fan pipe dream. A nice one, but at this point no one should hold their breath.
Did you at least think Dredd The Musical was funny?