'A Most Violent Year' Trailer: Jessica Chastain And Oscar Isaac Lead J.C. Chandor's Latest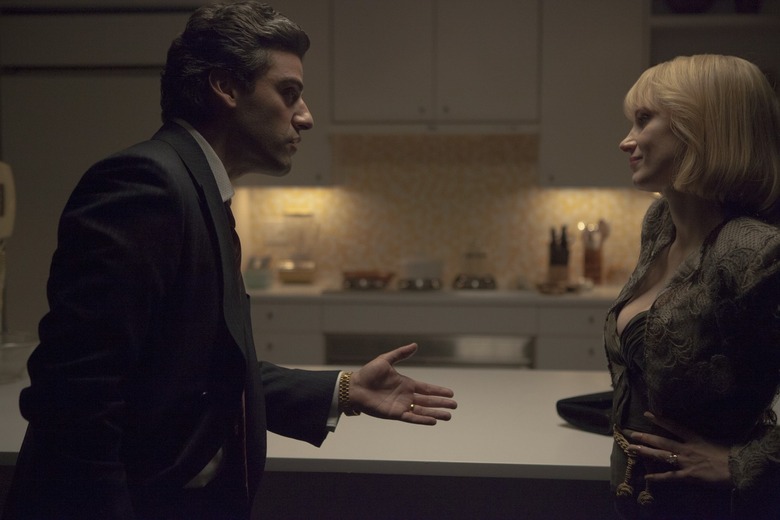 Just as summer always brings a rash of big-budget blockbuster sequels, fall and early winter reliably provide a crop of prestige dramas laden with Academy Award-nominated names. Among the many this year is A Most Violent Year, from Oscar nominee J.C. Chandor, two-time Oscar nominee Jessica Chastain, and actual Oscar / future Oscar nominee Oscar Isaac.
Isaac plays idealistic immigrant businessman Abel and Chastain his connected wife Anna. Together, they head a growing gas business in New York. But they runs into trouble when their company clashes with certain elements of the city's criminal underworld. Watch the A Most Violent Year trailer after the jump.
The A Most Violent Year trailer delivers on its title, teasing all the horrible and upsetting things that happen to this couple over the course of twelve months. The name is also true in a literal sense: 1981, when the story takes place, had one of the highest violent crime rates ever for New York City. Not good news for Isaac and Chastain's characters, here.
A Most Violent Year will close out this not-particularly-violent year with a December 31, 2014 opening. It's just barely squeaking in in time to qualify it for the 2015 Oscar race, but more people will get to catch the film when it expands to more theaters in January. David Oyelowo, Alessandro Nivola, and Albert Brooks also star.
A MOST VIOLENT YEAR is a thriller set in New York City during the winter of 1981, statistically one of the most violent years in the city's history. The film follows the lives of an immigrant (Oscar Isaac) and his family trying to expand their business and capitalize on opportunities as the rampant violence, decay, and corruption of the day drag them in and threaten to destroy all they have built.