'Red Army' Trailer: Playing Hockey Behind The Iron Curtain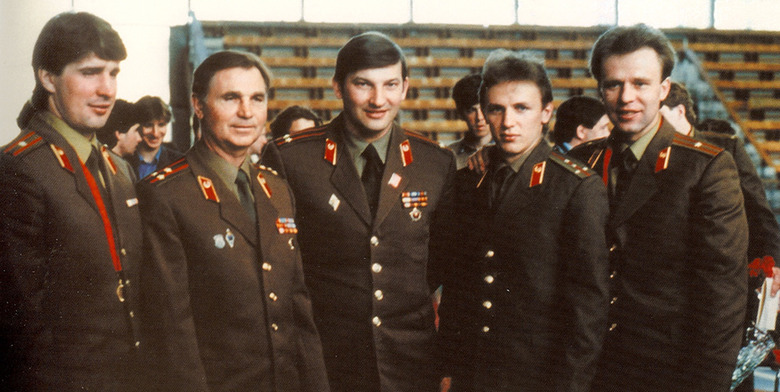 With the official start of the 2014-2015 NHL season just around the corner, there's no better time to revisit a powerhouse force from the sport's past. Red Army chronicles the tale of the former Soviet Union's national hockey team through the tumultuous '70s and '80s, honing in on moments both tragic and hilarious.
The documentary was one of the most talked-about to come out of this year's festivals, and the first Red Army trailer has now hit the web. Check it out after the jump.
My favorite part is the shot of two actual, non-metaphorical bears on the hockey rink. But the human stuff looks good too.
If you're a hockey nerd, Red Army looks like a must-see. The USSR's team dominated through the Cold War era, and any fan will probably be curious to see how things operated behind the scenes. But even those who don't care for the sport should be drawn in by this rare look at life behind the Iron Curtain.
The Gabe Polsky-directed documentary has attracted strong reviews on the festival circuit. Word is it's both crowd-pleasing (Twitch called it "one of the most unabashedly entertaining documentaries I've seen in some time") and genuinely insightful (HitFix approvingly noted that "like the very best sports documentaries, this uses the sports story to discuss society, human behavior, politics, and modern history").
Red Army opens January 22, 2015.
RED ARMY is about the Soviet Union and the most successful dynasty in sports history: the Red Army hockey team. Filmmaker Gabe Polsky tells an extraordinary human story from the perspective of its captain Slava Fetisov, the friendships, the betrayals, and the personal dramas, which led to his transformation from national hero to political enemy. The film examines how sport mirrors social and cultural movements and parallels the rise and fall of the Red Army team with the Soviet Union. RED ARMY is an inspiring story about a man who stood up to a powerful system and paved the way for change for generations of Russians.