Both 'Bourne' Movies Still In Development; Matt Damon And Paul Greengrass Not Locked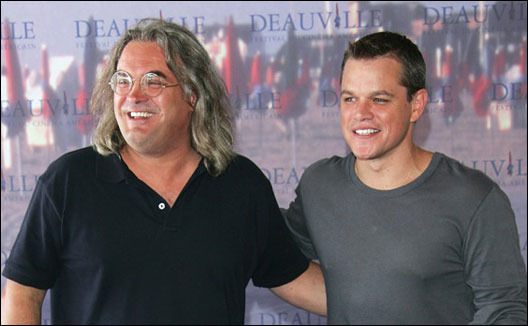 Most thrillers keep the suspense on-screen, but the Bourne franchise now has edge-of-your-seat action behind-the-scenes too. News that Matt Damon and Paul Greengrass would return to Universal to make the fourth Jason Bourne film has been the biggest surprise of the week so far. But that's just the beginning.
Greengrass didn't have the most pleasant split from the franchise after The Bourne Ultimatum, despite it being the most successful film of the franchise. Damon said he'd only play Bourne again if Greengrass returned, and that didn't seem like a very likely option. Now they may both be back for Bourne 5, putting the planned 2016 sequel to Jeremy Renner's The Bourne Legacy in question.
But hold up — things aren't quite so set on either front just yet, suggests producer Frank Marshall. There's no deal for Greengrass yet, and in the meantime development on the Renner sequel is still moving forward. "We're on two tracks," he says.
Producer Frank Marshall tells The Hollywood Reporter that the second Jeremy Renner film isn't dead, or even delayed quite yet, because the Damon/Greengrass movie doesn't have signed deals in place.
That [Jeremy Renner] movie is moving forward. It's still in development. We're working to get a script as soon as possible.
The most interesting bit in THR's article is that there could be an angle here to put pressure on Fox over the Richard Jewell movie Greengrass is developing there (starring Leonardo DiCaprio and Jonah Hill). Fox reportedly isn't certain that one is ready to go, so could people on Greengrass's side have put the Bourne news out there to light a fire under Fox in the hopes of leveraging a decision? It's possible — weirder politics happen every day in Hollywood.
However, it seems like neither Bourne film is really that far along. Marshall says in the above quote the script for the Renner film, which was set to be directed by Justin Lin, isn't ready. Greengrass apparently has a "a strong concept that would return Damon to his most lucrative role" but that's it at the moment. Could either of those films be ready for the currently planned 2016 release? It's unclear. But to make sure, Marshall says both films will continue to be developed:
We're on two tracks. And if this one [with Damon and Greengrass] comes together, great, but they're still just talking.
If all goes according to plan, though, both films will get released eventually, expanding the franchise leading up to an inevitable Renner vs. Damon showdown.
Which of the Bourne movies do you think has the better shot of being released first?