'The Judge' Trailer Starring Robert Downey Jr. And Robert Duvall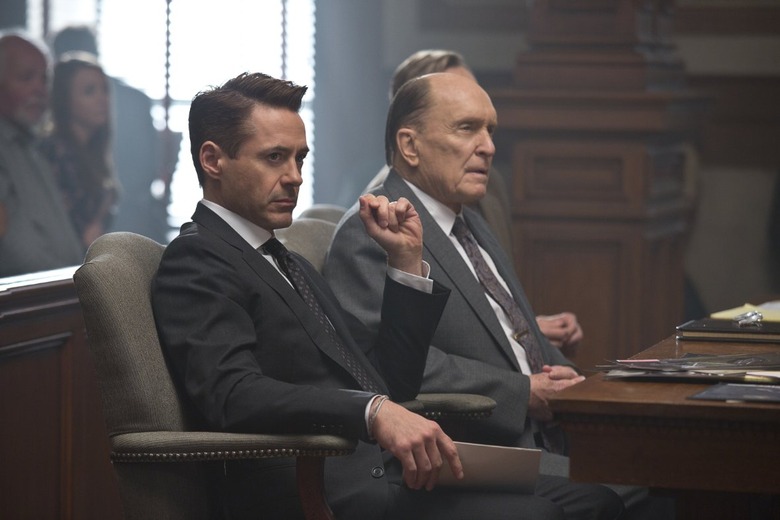 There's nothing quite like a death in the family to bring the living members of the family back together. Or at least that seems to be a running theme at the movies this year, between Are You Here, This Is Where I Leave You, and now the new The Judge trailer.
Robert Downey Jr. leads the drama as hotshot attorney Hank Palmer, who returns to his childhood home after the death of his mother. When he gets home, he discovers that his estranged father (Robert Duvall), an esteemed judge, has been accused of murder. Watch The Judge trailer after the jump.
The first The Judge trailer played up Robert Downey Jr.'s essential Robert Downey Jr.-ness, letting him get in some smartass quips before easing into serious-drama mode. The new one feels more straightforward, emphasizing Downey and Duvall's troubled relationship rather than Downey's talent for delivering one-liners.
The Judge got very mixed reviews at Toronto, with the National Post calling it "a regular crowd-pleaser" and Crave declaring it "one of the worst movies of the year." Critics generally agreed that Downey and Duvall were solid, and that the script was riddled with cliches. Where they disagreed was on whether the cheesiness made the movie unbearable.
The Judge lands in theaters October 10, 2014. The supporting cast includes Vincent D'Onofrio and Jeremy Strong as Hank's brothers and Vera Farmiga as his high school sweetheart, plus Dax Shephard, Billy Bob Thornton, Melissa Leo, Leighton Meester, Denis O'Hare, and David Krumholtz. David Dobkin directed.
In "The Judge," Downey stars as big city lawyer Hank Palmer, who returns to his childhood home where his estranged father, the town's judge (Duvall), is suspected of murder. He sets out to discover the truth and along the way reconnects with the family he walked away from years before.