Star Wars Episode 7: Anthony Daniels Talks About His New C-3PO Suit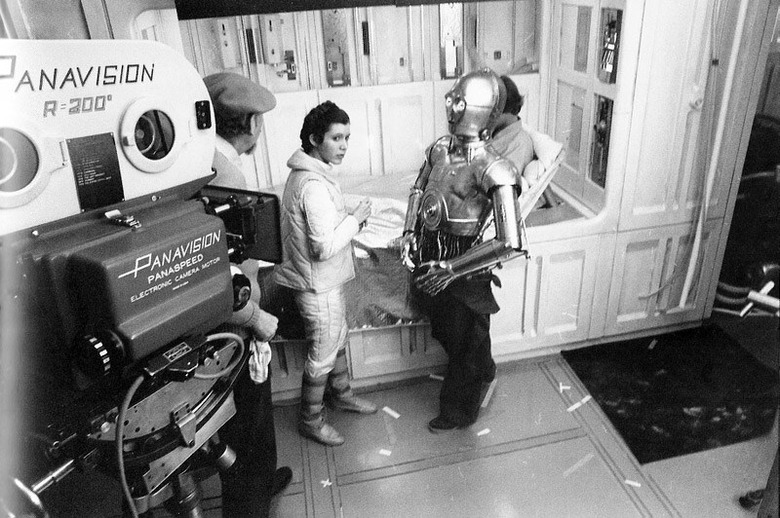 We know that Andy Serkis' performance capture studio The Imaginarium is heavily involved in JJ Abrams' Star Wars Episode VII, but we never considered to ask if classic characters like C-3PO would be computer animated or played by a man-in-suit.  Well, apparently when JJ Abrams first called Anthony Daniels, he asked the British actor to voice our favorite protocol droid in the new series. As you know, Daniels not only voiced the character but played the droid on screen  in a tightly created armored costume in the original trilogy, although the character was heavily CG animated in the prequels. So is C-3PO a performance capture computer animated creation in Episode 7? Find out the full story of the new C-3po Episode 7 suit, after the jump.
The following bit comes from Anthony Daniels in-depth interview with Entertainment Weekly. Here is what Daniels said about the new film:
I will tell you that when [director] J.J. Abrams rang me to ask about filming Episode VII, one of the first things he said after he told me how wonderful I was — and that didn't take long — but he then said, "Would you be interested in being in the film just doing the voice?" I said, "No," and he said, "Right!" He knew I'd say that. There's no way I would just do the voice. I also said that it can't be the same suit. I will tell you that the team then got together and built a new suit. They made an entirely new look-a-like with changes that you will never notice [on screen] that made my life a lot easier. I can get it on and off very quickly. [During the prequels], the only time [Threepio has] been CG was when it was very dangerous [to act in the scene in a suit] — and it wasn't very good. In fact, I'm going to say it was awful. One of the difficulties is with a character that you know and love so well is that, as a member of the audience, you go, "Oh no, that's not right. No, he doesn't move like that." With me [in the suit], he's always going to move the same way and have the same reactions, timing, and so on. With CG, you're working with some brilliant person on the keyboard who is trying to pretend to be me. The only time that has worked without doubt is Disney's Star Tours: The Adventures Continue [theme park ride]. There's an element in the pre-show which is digital and I cannot tell it's not me. It's brilliantly done by Disney. In a cartoon series like Rebels, you accept it because it's not trying to pretend to be reality. It's an extension, it's an exaggeration. On that basis, it's utterly acceptable — providing the characterization is correct.
So of course Daniels is back in the suit — we never doubted it for a second. And everything we've seen thus far suggests a return to old — practical sets and ships, puppeted creatures, and now men in robot costumes. When the one-hour Star Wars Rebels television movie is brought up and EW writer James Hibberd commented that it has "that sort of early Star Wars feel to it, which is elusive to capture" (this was my same reaction at Comic con), Daniels slips some more Episode 7 goodness:
It's very elusive and I'll tell you: It's where we're going now with Episode VII. We're all back. And it's great, actually, that Rebels is set before Episode IV because that film is quintessential basic, "This is Star Wars." And you know George always used to say every time I arrived on set, I would always arrive for the first time back on set in costume, and during the prequels George would say when I arrived on set that "Star Wars has arrived" — because I was the old fashioned link. Rebels is is an old fashion link to the old fashion film, which which we all loved. And you will love Episode VII — I have electrodes strapped to my head to zap me if I say anything more about it.
You can read the full interview on EW.com.