Cool Stuff: Eric Tan's Beautiful Star Wars Trilogy Posters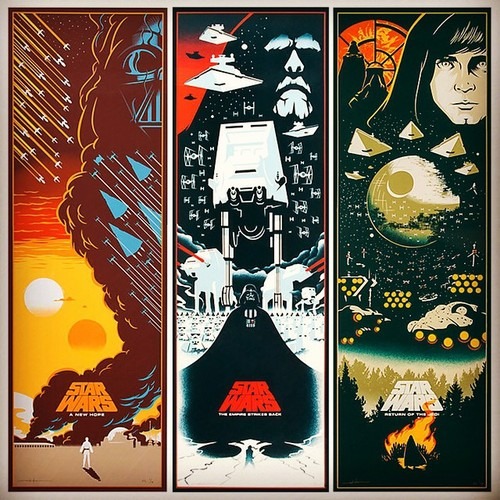 These three Star Wars posters are so beautiful, we figured they needed to be featured twice.
Eric Tan is one of our favorite artists here at /Film but, unlike others, he doesn't release a lot of prints. That's because his day job is a designer at Disney. That's cool on its own, but in the past few years, it means he gets to play in the coolest sandbox of all: Star Wars. Over the past few months, Disney has been sporadically releasing Tan's posters for Star Wars Episode IV: A New Hope, Star Wars Episode V: The Empire Strikes Back and this week, he revealed Star Wars Episode VI: Return of the Jedi.
Unfortunately, Disney chose to only release these Eric Tan Star Wars posters framed and that makes them quite expensive. But you should check them out below and read more about the beautiful posters.
If you like the Eric Tan Star Wars posters, they are all still available in the Disney Store...for $400 a piece. Star Wars, The Empire Strikes Back and Return of the Jedi at those links. They're all limited to 100 worldwide and come custom framed.
Tan has been documenting the process on his Instagram over the past few months. Here are the images with text discussing his process. Basically, each print shows Luke in the foreground and the insurmountable tasks he must complete in each film. Which is why you don't get all the imagery that's in every film.
Eric Tan Star Wars Trilogy
Leading up to this final post, where he revealed Jedi and wrote the following: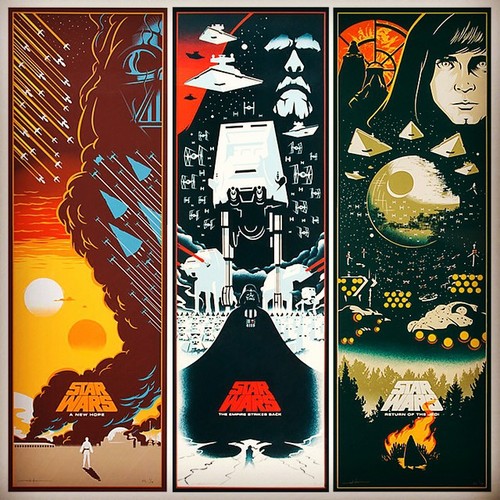 The circle is now complete! Like so many kids in the early 80's, #starwars completely ruled my childhood. It not only created endless hours of entertainment but launched so many kids' creativity into hyperspace. I remember drawing x-wings, stormtroopers, AT-ATs, and lightsaber duels when I was 5. To be able to relive all that magic and wonder as a grizzled old man is such an honor. I've never had more fun on a project and I cannot wait to do even more.
"Even more" huh? I have a feeling we might see some Eric Tan Episode VII work in the next few months/years.
I was really hoping someone would release these at a more affordable price point but, alas, that wasn't the route Disney wanted to go. Dare to dream.
If you had the $1200, would you buy Eric Tan Star Wars posters??