Sequel Bits: 'Now You See Me 2', 'Ghostbusters 3', 'Transporter Legacy', 'Annabelle'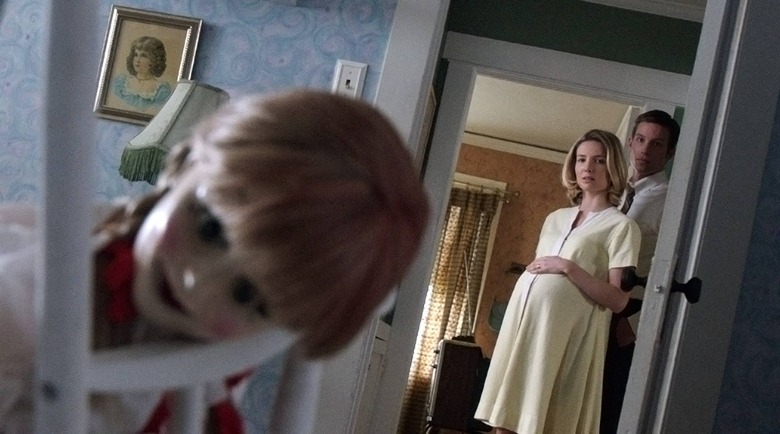 Sequels, spinoffs, and reboots aplenty after the jump.
Samurai Cop 2 is happening with Tommy Wiseau
Caity Lotz will return for The Pact 2
Mark Ruffalo offers a Now You See Me 2 update
The third Sharknado will hit Washington DC
Ghostbusters producer Joe Medjuck talks threequel
Woman in Black 2 will open in January 2015
Watch another Drumline: A New Beat preview
See another trailer for the Veronica Mars spinoff
Conjuring spinoff Annabelle gets a creepy TV spot
Get your first look at Transporter Legacy
[via The Dissolve]
After spending much of the past year superhero-ing it up on Arrow, Caity Lotz is returning to her horror film roots. She reprises the role of Annie for The Pact 2, directed by Nicholas McCarthy. Camilla Luddington, Scott Michael Foster, and Patrick Fischler also star. The Pact 2 hits theaters October 10. [Bleeding Cool]
With a June 10, 2016 release already locked in, Now You See Me 2 is coming together quickly. According to star Mark Ruffalo, shooting is set to begin in November. "Unless something goes terribly off kilter between now and the next couple weeks when a script comes out, I'm in," he said. "Everyone's in, but we're still in a kind of wobbly space." Jon M. Chu is directing. [Collider]
It's devastated Los Angeles and unleashed hell on New York City. Now Sharknado has its beady black eyes set on Washington, D.C. The setting was reportedly chosen as a result of an online campaign, because why not. Sharknado 3 will touch down in summer 2015. [Showbiz 411]
Producer Joe Medjuck recently sat down for an interview in honor of Ghostbusters' 30th anniversary, and in between reminiscing about the original he touched upon the long-gestating Ghostbusters 3. "Anything is possible, nothing is impossible," he said. "The main thing I know is that right now there is no script." He also stressed that "there's no official commitments from anybody about anything" at this point. [Beyond the Marquee]
Relativity scooped up the Woman in Black 2 U.S. release rights last week, and it's wasting no time putting them to good use. The horror sequel is set to open January 30, 2015, up against the Jason Blum-produced Lazarus and the long delayed Project Alamanac. Jeremy Irvine and Helen McCrory star in the new film, which picks up 40 years after the first one. [Deadline]
Drumline: A New Beat has a new release date and a new preview. Alexandra Shipp leads the TV movie sequel as Dani Raymond, a Brooklyn girl who heads to Atlanta A&T with hopes of becoming its first female section leader. Nick Cannon, who led the original, executive produces and appears in a cameo role.
Drumline: A New Beat airs October 27 at 9 PM ET. [TheWrap]
The meta Veronica Mars spinoff Play It Again, Dick, centers around Ryan Hansen's (fictionalized) attempts to get a Dick-centric Veronica Mars spinoff off the ground. Now the latest Play It Again, Dick trailer offers a look at Hansen's script. It involves horny mourners, a clothing-optional pool, and some truly terrible one-liners, because of course it does.
Play It Again, Dick premieres September 16 on CWSeed.com. [TheWrap]
The Conjuring's Annabelle is getting her own spinoff, and with that comes her own TV spot. Like the Toy Story toys, Annabelle has an odd tendency to move around when her owner isn't looking. Unlike the Toy Story toys, she uses this ability to terrorize the people around her instead of going on adorable adventures. Annabelle opens October 3.
The old Daario Naharis is the new Jason Statham. Ed Skrein leads The Transporter Legacy as Frank, the tough-as-nails driver who keeps finding himself in trouble because that's what happens when you agree to transport mysterious things for mysterious people with no questions asked. The Transporter Legacy opens March 6, 2015; see the first pic below.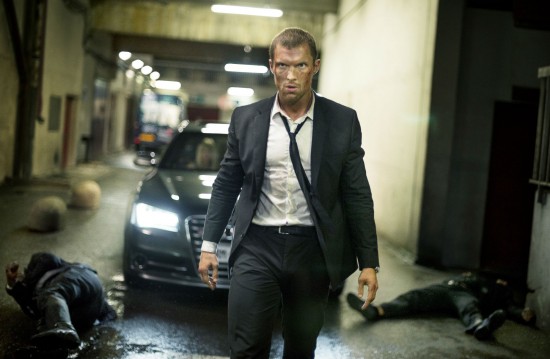 In the criminal underworld of France, Frank Martin (Ed Skrein – Game of Thrones) is known as The Transporter; the best driver and mercenary money can buy. Frank will deliver anything for a price. He abides by 3 simple rules: no names, no questions and no renegotiations.that is until he meets a mysterious and lethal femme fatale Anna (Loan Chabanol), leader of a group of deadly assailants. Stopping at nothing to take down a group of ruthless Russian human traffickers, Anna knows Frank is the best man for the job and holds his father (Ray Stevenson – Thor, Divergent) for ransom to ensure his cooperation. Now Frank and his father are forced to team up with Anna to bring these villains to justice. The Transporter Legacy is a relentless, high octane ride that takes the Transporter franchise to explosive new heights.
[IGN]