Listen To Paul Thomas Anderson Narrate An 'Inherent Vice' Scene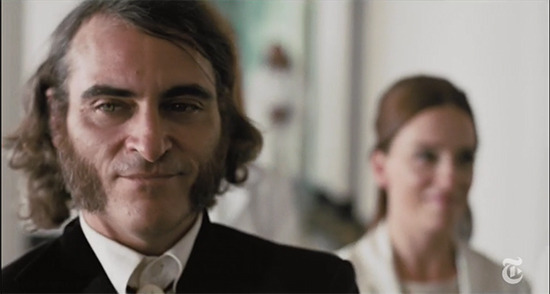 Inherent Vice begins its limited rollout tomorrow, and the excellent and unusual film should be on your must-see list for the end of the year. (Or for early January, if you're in a market that doesn't get it this month.) As prep for that release there has been a new trailer, a handful of clips, and now writer/director Paul Thomas Anderson has taken a minute to talk the New York Times through one scene in the film. The upshot of that is, you can listen in. Check out a brief Inherent Vice scene commentary from the director below.
Thanks to the New York Times 'Anatomy of a Scene' column for this video. I could use a lot more of this, frankly, but it's a great start.
The film was shot on locations around Los Angeles, with a minimum use of computer-generated embellishment and cleanup. Anderson told HitFix,
There is some digital trickery in the film. Outside Parker Center, when Joaquin gets knocked down... it's hard to admit because I don't like doing it. It feels like cheating, but the crosswalks are wildly different now. Street signs and stop signs and crosswalks, all that kind of gear is completely different now. ... The crosswalk is brick now. There's a totally different color to the brick, so they just took the pavement and made it straight. And there's another one, the [redacted] is obviously a digital effect. That and the Parker Center, and that's it. And that's IT. Everything else is just framing and shooting in a way that keeps that shit out.
I've redacted a bit there, just for those who don't want any vague spoilers, not that the detail would really ruin anything. But what the hell, we'll be safe.
If you want a bit more info on the film's Los Angeles locations, you can check out the great LA Weekly piece, which details several of the specific locations and how they were used. And we have our own (mostly) LA movie primer to prep you for Inherent Vice.