Star Wars Bits: First On-Set Footage From Episode VII, Adam Driver In Costume, 'Rebels,' Cameo Rumors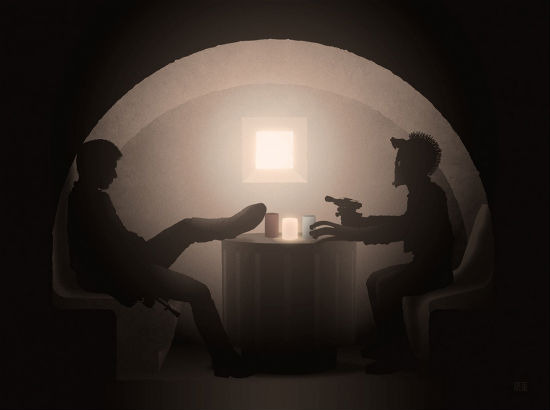 It was an exciting weekend to be a Star Wars fan. If you missed the fun, don't fret, we've got you covered. Below, read the following:
Watch the first footage of actual filming on the set of Star Wars Episode VII featuring John Boyega. (Non-spoiler, too!)
See potential set photos of Adam Driver and Gwendoline Christie on set in very Star Wars-y outfits. (spoilers hidden)
Is Endor a location in Star Wars Episode VII?
Disneyland Paris will gets Star Wars upgrade in the coming years.
WWE wrestler Sheamus settles that Darth Vader rumor.
Crazy rumors say Daniel Craig, Robert Downey Jr., Samuel L. Jackson and Hugh Jackman are in Episode VII.
Watch two new Star Wars Rebels TV spots.
Look at Eric Tan's amazing Star Wars Trilogy prints and the above Han Solo piece.
The single most exciting piece of recent Star Wars news is that a fan caught, on video, a glimpse of filming. After the airplane pilot caught glimpses of the Millenium Falcon and X-Wings at Greenham Commons last week, the paparazzi went out en masse. You'll see a bunch of photos below but one fan caught video of John Boyega walking around in a scene. You can't actually see him too well, but you can hear the assistant director calling out commands. For me, this was a special moment as it's the first actual filming we've seen from the movie. even though we have no idea exactly what's going on. Watch the video at
.
Almost as cool, but very curious, are a the set images captured at the Greenham Commons locations. One appears to be Adam Driver's character in a very recognizable, but very surprising, outfit. And the second looks like it might be Gwendoline Christie. You can look at both actors here. I think that image is Driver, but don't think that last image is Christie. Look at all the images at
 (And for some insight into the Driver photos, check out
. Potentially major spoilers at those links)
And for a ton of other images from the set, visit these links:
,
,
.
Also,
found a bunch of images of signs pointing Star Wars Episode VII crew members to the "Endor Base" and "Endor Loc." Does that mean Endor is in the movie? I doubt it. Many movies use semi-insider clues on these signs keep the general public from the set and Endor would make sense.
A few years back, the U.S. Disney parks got major upgrades to their Star Tours ride. Now,
is reporting Disneyland Paris is gearing up a "new attraction" based on Star Wars as well as an upgrade of Star Tours. It's unclear if those things are separate or the same, the article is vague, but we know Disney will soon be expanding Star Wars in the parks and it's possible this is the first big step.
When Star Wars was filming in Ireland, WWE wrestler Sheamus put up some tweets suggesting he might be in Episode VII: They were pretty obviously jokes but many took him seriously. Now, he finally came out and debunked those rumors. Thanks to
via
:
That was crazy. Basically I went home to Ireland and the crew were filming quite close to me at the time, then all these mad rumours started flying around. I definitely haven't received a contract, a helmet or a lightsaber yet, but who knows? It might come through the door. I hope it does.
In an even bigger bit of craziness,
(via
) suggests Daniel Craig, Samuel L. Jackson, Robert Downey Jr. and Hugh Jackman have all visited the set of Star Wars Episode VII and gotten secret cameos. While they very well might have visited the set (Craig is getting ready to film Bond 24 at the same studio, Jackson is in town filming Tarzan, etc.) it's highly unlikely they'll appear in the film. If anything, the suggestions are they put on a mask or something and will appear in the background. I don't even think that would be true though. Don't believe everything you read.
Here are two new TV spots from Star Wars Rebels. Watch them back to back below.
Disney artist Eric Tan finally revealed the last piece of his Star Wars Trilogy series. These are/were available on
.
Finally, that image at the very top of the article is now on sale via Hero Complex. It's called Going Somewhere Solo and it's by Ape Meets Girl.
.