'The Imitation Game' Wins Top Toronto Prize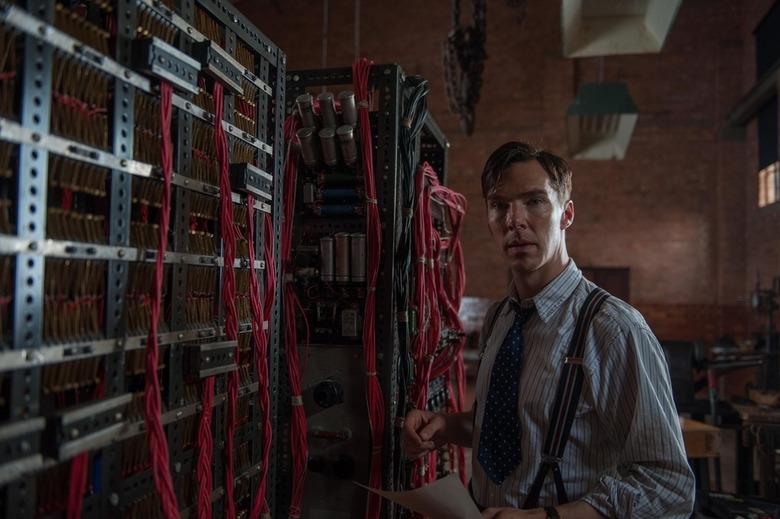 The Toronto International Film Festival is unique in a few respects, but one of the most interesting thing about the fest in relation to other film festivals is that the top prize is decided by audiences. The People's Choice Award may sound like an also-ran TV awards show, but in reality it's a big deal. You've heard of some of the previous winners: 12 Years a Slave, Silver Linings Playbook, The King's Speech, and Slumdog Millionaire. This year, the prize winner at TIFF was The Imitation Game, in which Benedict Cumberbatch plays pioneering computer scientist Alan Turing.
Cumberbatch has won praise for his work as Turing in the film's two festival appearances at Telluride and TIFF. And the film's potential to be popular with audiences is part of the reason The Weinstein Company laid out $7m for the film early this year, well before it hit TIFF or any other festival.
Early reviews out of the fest circuit put The Imitation Game into the nascent Oscar race for this year, and this win puts it up in front of that race, at least for now. That also plays right into the Weinsten game.
For those who don't care as much about awards, however, just be happy that people are responding well to a film about a gay mathematician who was ultimately persecuted for his sexual orientation. That's pretty neat.
The Imitation Game arrives November 21. Morten Tyldum (Headhunters) directed. The synopsis is below, followed by the trailer, and then the full list of all the TIFF prize winners for this year. Special note from the Midnight Madness program is that the People's Choice Award winner in that section was the very funny vampire comedy What We Do in the Shadows, starring Jemaine Clement.
In THE IMITATION GAME, Benedict Cumberbatch stars as Alan Turing, the genius British mathematician, logician, cryptologist and computer scientist who led the charge to crack the German Enigma Code that helped the Allies win WWII. Turing went on to assist with the development of computers at the University of Manchester after the war, but was prosecuted by the UK government in 1952 for homosexual acts which the country deemed illegal.
Toronto Imitation Game
People's Choice Award: "The Imitation Game," directed by Morten Tyldum
People's Choice Award For Documentary: "Beats Of The Anatov," directed by Hajooj Kuka
People's Choice Award For Midnight Madness: "What We Do In Shadows," directed by Jemaine Clement, Taika Waititi
Best Canadian Feature Film:? "Felix and Meira," Directed by Maxime Giroux
Best Canadian First Feature Film: "Bang Bang Baby," Directed by Jeffrey St. Jules
Prizes of the International Critics (FIPRESCI Prize) for Special Presentations Section: "Time Out of Mind," Directed by Oren Moverman
Prizes of the International Critics (FIPRESCI Prize) for Discovery Section: "May Allah Bless France!," Directed by Abd Al Malik
NETPAC Award For Best Asian Film: "Margarita, With a Straw," Directed by Shonali Bose
Best International Short Film: "A Single Body," Directed by  Sotiris Dounoukos
Best Canadian Short Film: "The Weatherman and the Shadowboxer," Directed by  Randall Okita