First Look At 'Ted 2' Features More Flash Gordon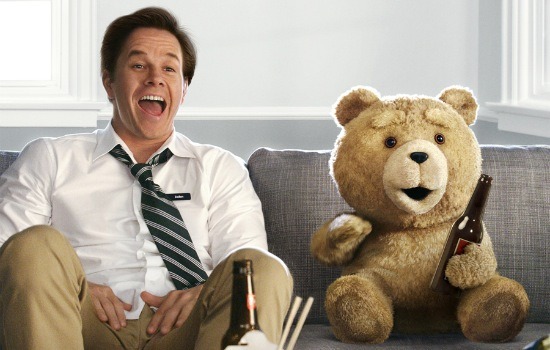 A lot of things about Seth MacFarlane's 2012 film Ted could be considered a surprise. The fact it was such a huge hit for one. Ted grossed $218 million domestic against a budget of $50 million and became one of the top 10 highest grossing R rated comedies of all time. Personally though, the biggest surprise was the way MacFarlane used Flash Gordon in the film. Both Ted and Mark Wahlberg's character, John, were fans of the cult '80s sci-fi flick and the director cast Flash himself, Sam Jones, in a hilarious, extended cameo.
Well MacFarlane is back in Boston, filming Ted 2 for release June 26, 2015 and star Mark Wahlberg himself released the first set photo. In it, we see that Flash is still a big part of John's life. Check out one of the first Ted 2 set photos below.
Here's the first look from the Ted 2 set, via Mark Wahlberg's Twitter.
Ready to ride? Mark on the set of Ted 2 with a new #IndianScout pic.twitter.com/EjuKUxnIYh

— Mark Wahlberg (@markwahlberg) September 10, 2014
Here's the photo bigger: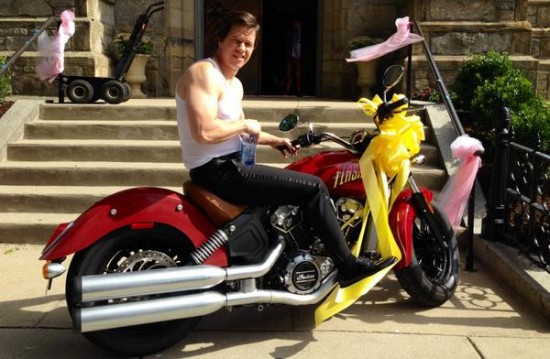 Now, this is obviously a new Indian Scout motorcycle with a custom Flash Gordon paint job. In regards to the film, what's more intriguing are the bows on it, on the railings, and the fact it appears to be at the bottom of a set of steps leading up to a church.
It seems like a logical conclusion then that good old John Bennett is getting married in Ted 2 and this bike is a wedding gift. But who is the gift from? Mila Kunis' character has reportedly either been written out of the film or her role was significantly diminished. Amanda Seyfried is the new love interest in Ted 2. Now, does that mean John marries Kunis' character and they get divorced? Or is this a super big spoiler from the end of the movie where he marries Seyfried's character? Either way, it seems like a pretty significant life event in the film.
Morgan Freeman recently joined the cast as well. He's playing a civil rights lawyer who works with Ted, and that's a pretty significant hint at what's going to happen in the film. Ted is obvioulsy looking to be treated more like a human, and if you cast Morgan Freeman in that role, it's probably a big one.
We'll find out more as the film continues to shoot and up to next year's release. What do you think of the first look at Ted 2?