Dane DeHaan And Rooney Mara Join 'Great Gatsby'-Esque Musical 'Ziggy'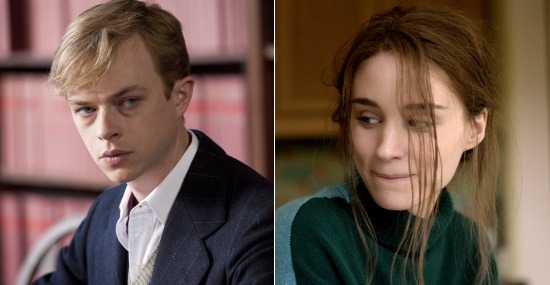 Well, you can't accuse Dane DeHaan and Rooney Mara of not wanting to try new things. The hot young stars have signed on for Ziggy, a musical Jazz Age love story from Diesel Schwarze. Grammy-nominated producer and songwriter Alex Da Kid will help provide original contemporary music.
If that sounds a bit like Baz Luhrmann's The Great Gatsby, there's be a good reason for that. Schwarze is a protégé of Luhrmann's who worked with him on Moulin Rouge! and Broadway's La Boheme. Get Ziggy musical plot details and more.
Neither actor has much experience singing onscreen. For what it's worth, DeHaan has claimed in interviews that he can sing. And he has starred in a musical project of sorts (Metallica Through the Never), albeit in a non-musical role. Mara briefly got to show off her pipes in a scene from Ain't Them Bodies Saints, but has denied any interest in a music career: "Maybe when I'm, like, in the shower or in the car, but no, it's not a realistic thing for me."
DeHaan is coming off of the zombie romcom Life After Beth — another departure for him, as he's mostly known for drama — and The Amazing Spider-Man 2. He recently wrapped Life, in which he plays James Dean. Mara hasn't appeared in a movie since last year's Her but has several coming up in the next few years including Pan and an untitled Terrence Malick project.
Da Kid is known for working with top-shelf artists like Eminem, Rihanna, Dr. Dre, Nicki Minaj, and Imagine Dragons. He's been nominated for several Grammy awards including Album of the Year for co-producing Rihanna's "Loud." While several of his songs have made it onto movie soundtracks, Ziggy will be his first time making music specifically for a film.
After starting out with Luhrmann on Moulin Rouge! and La Boheme, Schwarze established himself as a commercial director. He and his production design partner Alexandra Bolton (herself a protégé of Luhrmann's wife and frequent collaborator Catherine Martin), have crafted ads for Toyota, Target, and more under the name Augustus Punch. Ziggy will be his first feature.