A 'Married... With Children' Spinoff Is In The Works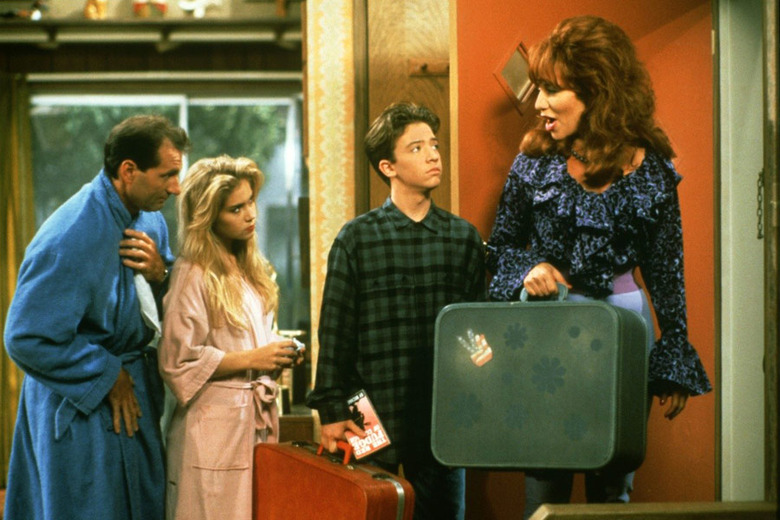 The Bundys and the Tanners were polar opposites back in the day, but now they have one big thing in common: Both are being resurrected for modern TV. Sony Pictures TV is reportedly working on a spinoff of Married... With Children, centered around awkward son Bud Bundy (Dave Faustino). Hit the jump for more details on the Married With Children spinoff.
Working in the new show's favor is the fact that '80s and '90s nostalgia is huge on the small screen right now. The Boy Meets World spinoff Girl Meets World was renewed last month for a second season after launching earlier this summer, and a Full House reboot is currently in development at Warner Bros. TV.
And those are just the new versions of old shows. You could also see ABC's new(ish) sitcom The Goldbergs as falling into that trend, since it's set in the '80s and draws heavily from '80s pop culture. Or FXX's The Simpsons marathon, which had fans fawning over classic episodes of the long-running series.
But nostalgia will only get a TV project so far. Lifetime recently revisited Bayside with The Unauthorized Saved By the Bell Story, to dismal ratings and worse reviews. And CBS poured time and money into a Beverly Hills Cop TV series off the ground, but even the involvement of Axel Foley himself couldn't make it work.
Married... With Children was one of Fox's very first original series, and a definite hit. It ran for 11 seasons from 1987 to 1997. The network re-aired the pilot in 2012 as part of its 25th anniversary celebration, and much of the cast reunited this week for star Katey Sagal's Walk of Fame ceremony.
All of the Married... With Children cast members have maintained successful TV and movie careers. Sagal had a long-running gig voicing Leela on Futurama, and is now finishing up a starring role on FX's Sons of Anarchy. Ed O'Neill frequently gets Emmy nominations for his work on Modern Family. Applegate has led the shows Up All Night, Samantha Who?, and Jesse, and has starred in films like Anchorman.
Faustino has been somewhat less visible than his former co-stars but he's worked steadily. Lately he's done a lot of voice work, including a major role on Nickelodeon's The Legend of Korra. He recently reconnected with his former TV dad on an episode of Modern Family.