'The Homesman' U.S. Trailer: Tommy Lee Jones Returns To The Director's Chair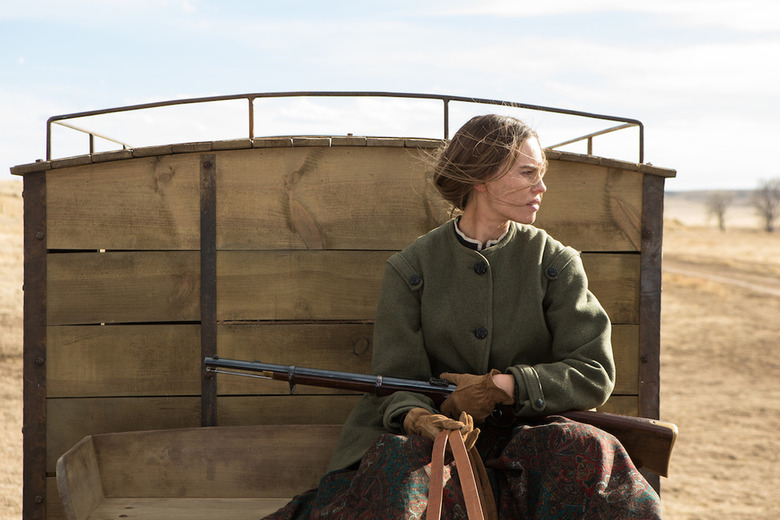 Nearly ten years after making the leap to directing with The Three Burials of Melquiades Estrada, Tommy Lee Jones is back behind the camera with The Homesman. (In the interim, he made The Sunset Limited for cable.) The new film is a Western, like the last one was, but of a very different type.
Hilary Swank stars as tough frontier woman Mary Bee Cuddy, tasked with transporting three mentally ill women to a sanitarium in Iowa. She enlists the help of desperate drifter George Briggs (Jones) in exchange for saving his life. Hit the jump to watch the first The Homesman U.S. trailer.
Reactions to The Homesman following its Cannes debut were bemused but mostly positive. More than one reviewer has called it "weird," with Indiewire even naming it "one of the weirdest American westerns since Jim Jarmusch's Dead Man." Part of that strangeness seems to come from its tone, which The Playlist describes as "terribly uneven, swinging from buddy-comedy to bleak pioneer drama and back again in the space of five minutes."
The Homesman opens November 14. Meryl Streep, Hailee Steinfeld, Tim Blake Nelson, James Spader, William Fichtner, and Jesse Plemons also star.
When three women living on the edge of the American frontier are driven mad by harsh pioneer life, the task of saving them falls to the pious, independent-minded Mary Bee Cuddy (Hilary Swank). Transporting the women by covered wagon to Iowa, she soon realizes just how daunting the journey will be, and employs a low-life drifter, George Briggs (Tommy Lee Jones), to join her. The unlikely pair and the three women (Grace Gummer, Miranda Otto, Sonja Richter) head east, where a waiting minister and his wife (Meryl Streep) have offered to take the women in. But the group first must traverse the harsh Nebraska Territories marked by stark beauty, psychological peril and constant threat.