Simon Kinberg Suggests 'Star Wars Rebels' Could Introduce 'Star Wars Episode VII' Characters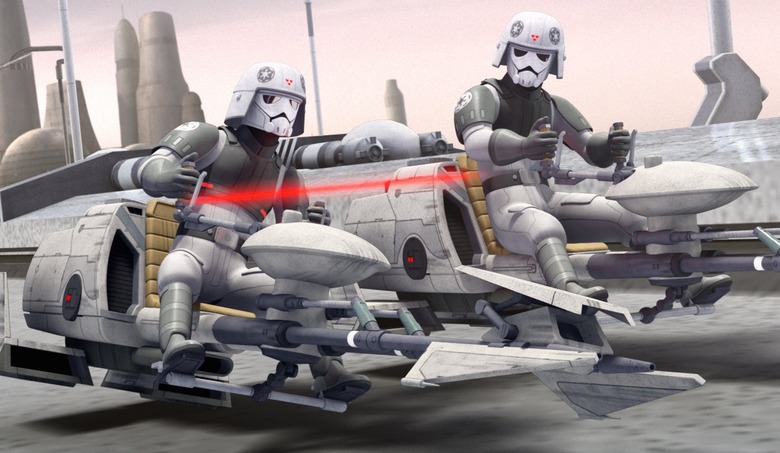 The new animated series Star Wars Rebels bridges the gap between Episode III and Episode IV as it charts the rise of the rebellion as the Empire takes hold of the galaxy. That puts it several decades on the timeline before Star Wars Episode VII. Still, we've wondered if characters or elements from the new movie might first show up in Rebels. Simon Kinberg, a creative on Rebels and also a writer on one Star Wars spinoff film, now says that Rebels will definitely introduce new characters, locations and elements "before we've ever seen them in the movies, possibly including VII."
At Comic Con this year, we asked Simon Kinberg about the potential to use the influence of Rebels to make people aware of stuff for the new film. (Which, in retrospect, was the wrong way to frame the question.) Kinberg said,
I don't know. It's its own thing. I mean, there's gonna be so much Star Wars material the next 10 years or our lives, maybe more than 10 years. They're all kind of distinct. There's a lot of synergy, I can say, at Lucasfilm having everybody know the information from the other stories. So I do think there is, in the same way that there's an overall plan and a communication within Marvel Studios. I think Lucasfilm has a similar kind of synergy happening. But in terms of a responsibility for the Rebels to sort of connect to Episode VII? We haven't really talked about that. And there is such a huge time gap between them that really what we focus on is the connection and responsibility to Episode IV.
Now, just weeks later, Kinberg is singing a very different tune. Did things change? Or is now simply the right time to talk about it? He tells
,
It's a very integrated process, there's real communication between all the filmmakers because we're all part of a larger timeline. There is absolutely communication and integration between the different stories. We are very aware of what they're doing in VII, and we also have to click into place with Episode IV. ... There are characters, vehicles, imagery that are introduced in the show before we've ever seen them in the movies, possibly including VII.
(Bolded elements are emphasized by me in both cases.)
What will some of those elements be? We don't know at the moment.
that one particular Episode VII character would show up in Rebels, but there's no confirmation of that. And given the timeline of the two shows, things don't line up.
***
Rebels debuts October 3 on the Disney Channel, then run on Disney XD starting on October 13.