Mark Ruffalo Emailed Rian Johnson Asking To Be In 'Star Wars'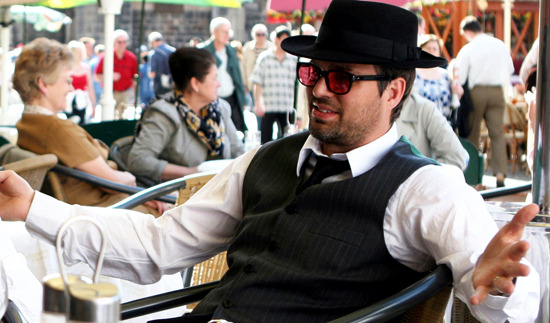 Star Wars Episode VII is currently filming, the first Star Wars spinoff comes after that, and then Rian Johnson is making Star Wars Episode VIII. Tentatively, that suggests the film would be released in 2017, and the director is already being courted for roles in the film. Case in point comes from the Hulk himself, Mark Ruffalo.
The actor worked with Johnson on 2008's The Brothers Bloom and recently emailed the director congratulating him on the job and letting him know he'd love to be in the movie. Johnson then took to Twitter to respond. Read everything Mark Ruffalo Star Wars below.
UPDATE: Now some other stars are asking Johnson to be in the film. See their tweets below.
Ruffalo let the cat out of the bag in an interview with Collider:
The actor said he'd recently reached out to Johnson and then the reporter asked how bad he wants to be in a Star Wars movie:
Desperately.  My e-mail to Rian after all these years was, "Rian, congratulations on everything you've been doing.  And by the way, if there's a part in Star Wars, please, anything, please consider considering me to join you."
He then followed up by saying, even if it was a CG role, he'd be cool with that. Read the full exchange at the above link.
Collider then tweeted their quotes and got a few responses, including this one from Johnson himself:
Gary Whitta, of course, is the writer of that first Star Wars spinoff movie and behind the big Internet push to get Ruffalo cast in Columbo. Read this link for more background on Johnson's reference.
Whitta's friend and Warcraft director Duncan Jones replied to the tweet:
@rianjohnson @colliderfrosty @MarkRuffalo @garywhitta Darth Hulk!

— Duncan Jones (@ManMadeMoon) September 11, 2014
And then Whitta himself responded:
@ManMadeMoon @rianjohnson @colliderfrosty @MarkRuffalo May The Falk Be With You!

— Gary Whitta (@garywhitta) September 11, 2014
This is all joking, but you have to believe, if there's a role for Ruffalo in Star Wars Episode VIII, Johnson will almost certainly cast the actor. He's definitely proved he can bring some gravitas to huge blockbusters, which we'll get to enjoy once again come May thanks to Avengers: Age of Ultron.
What do you think about Mark Ruffalo wanting to appear in Star Wars?
UPDATE: Colin Hanks and Brea Grant have thrown their hats into the ring and Johnson has turned the car around: