The Next 'Simpsons' Crossover Could Be The Strangest Yet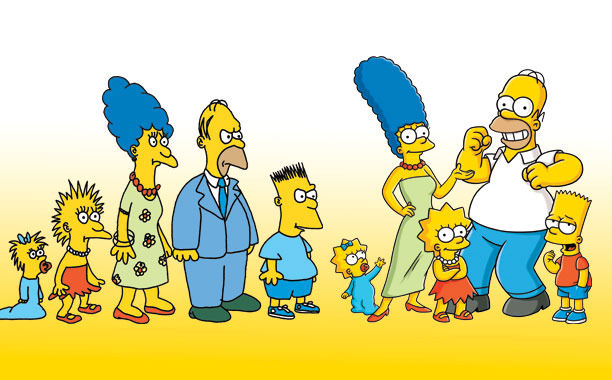 Springfield is already slated to get visits from Family Guy's Griffin clan and Futurama's Planet Express crew this season, but the next planned Simpsons crossover may be the strangest yet. For Homer and company will be crossing paths with... themselves.
In this year's "Treehouse of Horror" episode, the Simpsons will find their home haunted by a family of ghosts, The Others-style, who turn out to be the Simpsons from the Tracey Ullman Show era. Hit the jump for your first look at the Simpsons / Simpsons crossover.
However, the upcoming episode will be the two versions' most extended interaction yet. Simpsons exec producer Al Jean told EW where the idea for the crossover originated. "We've implied that they were murdered and buried under the house, so this is expanding that thought," he explained. "If people want a real Halloween bloodbath, they get it."
Unlike with most crossovers, this one won't require any special guest stars. The same cast voiced both versions of the Simpsons: Dan Castellaneta (Homer), Nancy Cartwright (Bart), Yeardley Smith (Lisa), and Julie Kavner (Marge). "The great thing is we didn't have to ask — we already had the cast hired for the Tracey Ullman Simpsons," said Jean.
But there'll still be subtle differences. "People remember Dan's, but Nancy's is different too," said Jean. "It was lower-register, and you can see in the difference in this segment. It was really funny to get the interplay [between the two versions of the Simpsons] and for the actors to see the voice evolution."
The Simpsons' annual "Treehouse of Horror" airs this year October 19.