Richard Kiel, Who Played James Bond Adversary Jaws, Has Died At Age 74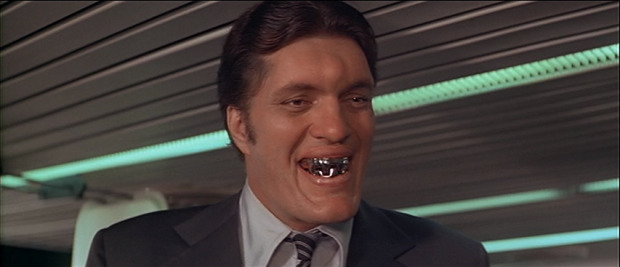 At 7' 2", Richard Kiel was legitimately one of the biggest actors in Hollywood, and as a result he fought hard to avoid being typecast. The actor appeared in one of the most notable pieces of early televised science fiction, the Twilight Zone episode 'To Serve Man,' but will be forever known as Jaws, the steel-grilled henchman who menaced James Bond in The Spy Who Loved Me and Moonraker. At St. Agnes Medical Center in Fresno, CA, Richard Kiel died on Wednesday September 10, at age 74. 
Kiel landed on television in 1960, and the 1962 film Eegah truly began his successful run in show business. He appeared on television in shows such as Laramie, Thriller, The Man From U.N.C.L.E., Gilligan's Island, The Monkees, I Spy, and The Rifleman just to name a few. He was also in features such as The Phantom Planet, The Longest Yard, Silver Streak, Pale Rider, and, perhaps most memorably for the younger crowd, Happy Gilmore.
In 1977 Kiel nearly ended up playing the Incredible Hulk on television, only to see Lou Ferrigno cast in the role.
That same year The Spy Who Loved Me hit cinemas in summer, and saddled with wildly uncomfortable dental appliances, Kiel found he had the role of his lifetime. (Oddly, his Silver Streak character a year earlier also had metallic choppers.) The character Jaws was originally meant to die at the end of the film (killed by a shark, no less) but test screening reactions to the character convinced producers to keep him around, and he was ultimately written into Moonraker. There the character became less of a villainous machine, and even found love.
The actor's family posted a letter to fans:
It is with very heavy hearts that we announce that Richard has passed away, just three days shy of his 75 th birthday. Richard had an amazing joy for life and managed to live every single day to the fullest. Though most people knew of him through his screen persona, those who were close to him knew what a kind and generous soul he was. His family was the most important thing in his life and we are happy that his last days were spent surrounded by family and close friends. Though his passing was somewhat unexpected, his health had been declining in recent years. It is nice to think that he can, once again, stand tall over us all.
With love,
The Kiel Family