Rambo 5 Title Rumored To Be 'Rambo: Last Blood'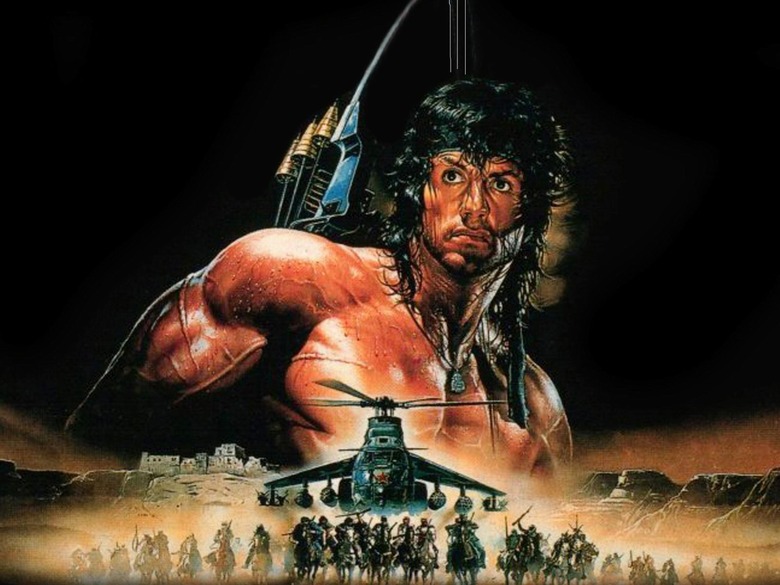 Back in June we heard whispers that Sylvester Stallone was prepping another installment of the Rambo franchise. And now a new rumor suggests the Rambo 5 title might be Rambo: Last Blood. That can't be serious, can it?
The rumor comes from ComingSoon where a reader named nopr100 send over the new intel. No other information was provided however. ComingSoon usually doesn't report on rumors of this kind unless they know something more, so there might actually be something to this bit. Rambo: Last Blood seems a bit too on the nose for me.
(The title was also used already, for a strange flash-based Rambo game released a couple years ago.)
Splendid Films confirmed that Stallone had started writing the screenplay for a fifth Rambo movie back in June. The press release stated:
"With Rambo V, Sylvester Stallone returns in his iconic role. This time he goes up against a Mexican cartel. Stallone describes the new Rambo as his version of No Country for Old Men."
Stallone last played John Rambo in the 2008 film Rambo which earned almost $115 million worldwide on just a $50 million budget. Stallone wrote and directed that film, and if a fifth film is made, its planning Rambo 5 which would have followed Rambo fighting his way through human traffickers and drug lords to rescue a young girl abducted near the U.S.-Mexico border. But then plans changed and Stallone was going to base the fifth installment on the James Byron Huggins' novel "Hunter" which would have seen Rambo and Special Ops "hired to hunt and kill a ferocious beast (the product of illegal genetic engineering experiments) that has slaughtered and destroyed research facilities and is on its way to civilization."
Neither of those projects went forward. Millennium Films and Nu Image advertised Rambo V with posters and handouts at the 63rd Cannes Film Festival, but apparently Stallone was not going to be involved. Producers planned to make a prequel titled Rambo: The Beginning with a new actor focusing on the origins of John Rambo (Spartacus star Manu Bennett was mentioned for the role). Nu Image then claimed they were developing a television series version of Rambo with Stallone is in talks to join the project, but Sly again publicly refuted this idea.
Millennium then hired Sean Hood in 2011 to write Rambo: Last Stand based on 20 pages of an incomplete draft of Rambo V that Stallone wrote. The story would be "more in line with the small-town thriller of First Blood".
Stallone has gone back and fourth about if a fifth Rambo film should be produced. In a 2010 interview, Sly said that he thinks"Rambo's pretty well done" and that he was 99% sure there wouldn't be any more. However, two years later he was quoted as saying "I'm dying to do another Rambo."