'Batman V Superman' Batmobile Revealed, And It Is A Beast [Updated]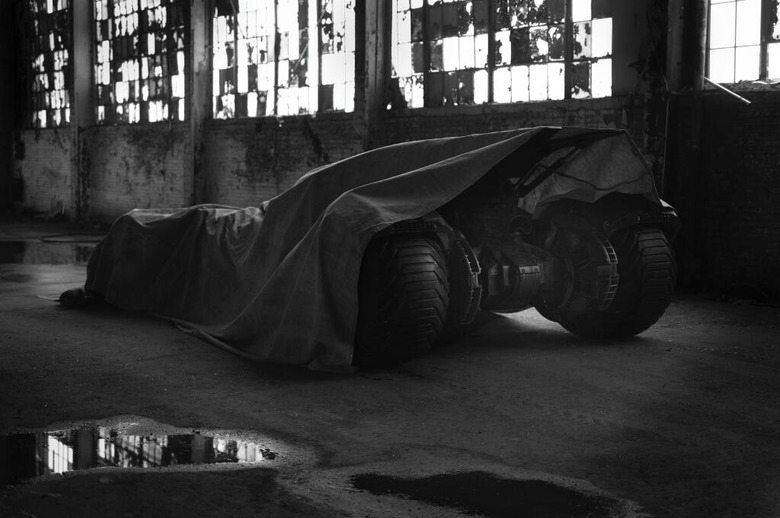 Zack Snyder showed off the first glimpse of the Batman v Superman batmobile, then gave us a few more details when he revealed Batman's outfit. Now that the film is shooting on the streets of actual cities, however, others are getting in on the action. A couple shots of the new Batmobile have reportedly been grabbed as the film shoots in Detroit. They show off a lot more about the vehicle, which looks like one hell of a beast.
Update: A couple more good shots of the vehicle have surfaced.
While they last, here are two images via  Instagram user amacro13 and Batman-News. These shots are unverified for now, and don't entirely seem to line up with the official tease above — this vehicle seems like it isn't as long, primarily. The fins seen in the "up" position above could be laying down in the pics below, and in general this could be a different mode for the vehicle. This does look quite a lot like the Arkham Knight batmobile, too. As more shots arrive we'll get a better idea.
These two shots followed the first reveal from an Instagram user who has since deleted the shot. You can see that shot here, complete with someone just sitting in the cockpit, checking their phone.
Update: More images have shown up.
The best shot yet seems to come from AICN, but since we haven't fully verified the ownership of that pic, you'll have to go there to see it.
Here's the Arkham Knight version for comparison:
Batman v Superman: Dawn of Justice stars Henry Cavill in the role of Clark Kent/Superman, Ben Affleck as BruceWayne/Batman, Gal Gadot as Diana Prince/Wonder Woman,  Jesse Eisenberg as Lex Luthor, Jeremy Irons as Alfred, and Holly Hunter in a role newly created for the film, with Amy Adams, Laurence Fishburne and Diane Lane returning from Man of Steel.
The film is written by Chris Terrio, from a screenplay by David S. Goyer. Charles Roven and Deborah Snyder are producing, with Benjamin Melniker, Michael E. Uslan, Wesley Coller, David S. Goyer and Geoff Johns serving as executive producers.
Batman v Superman: Dawn of Justice is scheduled to open in the US on March 25, 2016.