'Now You See Me 2' Scheduled For Summer 2016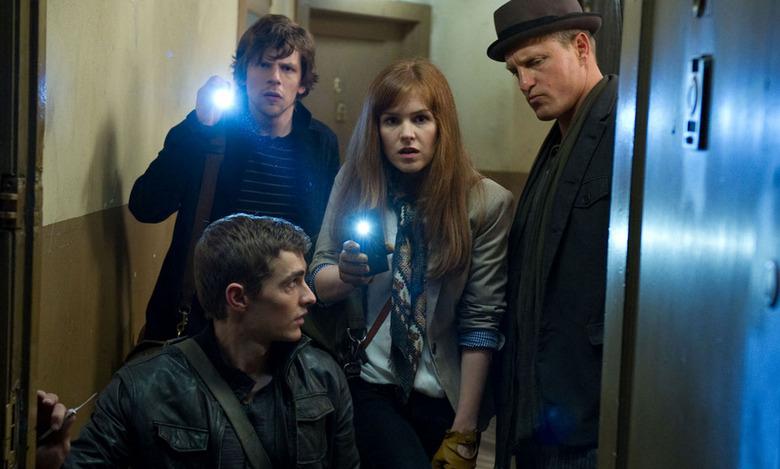 Lionsgate has announced a Summer 2016 release date for Now You See Me 2. The magical heist sequel will hit theaters the same weekend that the original film made its debut in 2013. Hit the jump to find out more about the film and the Now You See Me 2 release date.
Now You See Me 2 will hit theaters on June 10th 2016, the same day as Sony's big screen adaptation of the video game Uncharted, a week after Paramount's Teenage Mutant Ninja Turtles 2, and a week before Pixar's Finding Nemo sequel Finding Dory and WB comedy The Nice Guys.
GI Joe 2 director Jon M. Chu is directing the sequel from a script by Ed Solomon and Pete Chiarelli. The main cast of Now You See Me, which includes Mark Ruffalo, Woody Harrelson, Jesse Eisenberg, Isla Fisher, Dave Franco and Morgan Freeman are set to reprise their roles with Michael Caine joining the group.
The Summer of 2016 is beginning to take shape, here is a look:
April 2016
Clifford The Big Red Dog – 4/8
The Best Man Wedding – 4/15
The Huntsman – 4/22
May 2016
Captain America 3 – 5/6
Universal R-Rated Comedy – 5/13
Alice in Wonderland: Through the Looking Glass – 5/27
X-Men: Apocalypse – 5/27
June 2016
Sausage Party – 6/3
Teenage Mutant Ninja Turtles 2 – 6/3
Now You See Me 2 – 6/10
Uncharted – 6/10
Finding Dory – 6/17
The Nice Guys – 6/17
The Mummy reboot – 6/24
July 2016
Angry Birds – 7/1
The BFG – 7/1
Independence Day 2 – 7/1
Tarzan – 7/1
Marvel Untitled – 7/8
Ice Age 5 – 7/15
Bourne Sequel – 7/15
King Arthur – 7/22
Power Rangers – 7/22
Untitled Planet of the Apes sequel – 7/29
August 2016
Untitled DC Film – 8/5
Untitled Smurfs Movie – 8/5
Spectral – 8/12