'23 Jump Street' Gets '22 Jump Street' Writer; Phil Lord And Chris Miller To Produce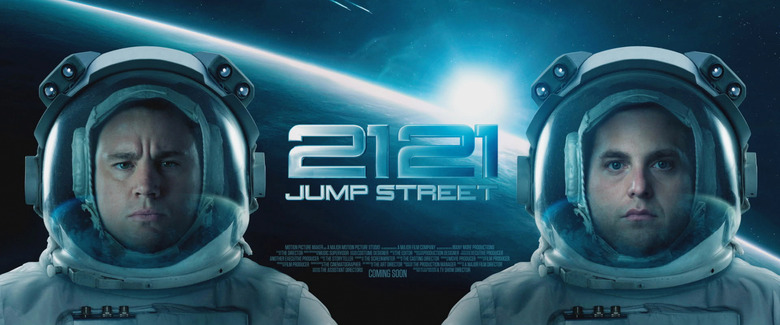 One of the best jokes in 22 Jump Street was an extended montage about the rash of sequels sure to follow. But considering that 22 Jump Street wound up making six times its budget at the box office, it may not be long before that gag becomes reality.
Sony is getting the ball rolling on 23 Jump Street, setting 22 Jump Street co-writer Rodney Rothman to pen the script. Phil Lord and Chris Miller are on board as well, albeit just as producers for now. Hit the jump on the latest 23 Jump Street news.
reported the news. Jonah Hill and Channing Tatum are expected to reprise their roles as Schmidt and Jenko, and they'll once again produce with Lord, Miller, and Neal Moritz.
No 23 Jump Street plot details have been revealed yet. That sequel montage in 22 Jump Street did tease a medical setting for 23 Jump Street, but it also promised 29 Jump Street: Sunday School and 40 Jump Street: Retirement Home, so we suspect Rothman and the filmmakers don't feel overly obligated to stick to those plans.
Lord and Miller are currently set to produce 23 Jump Street. It's unclear whether they also plan to direct. The job is reportedly theirs for the taking, which isn't surprising given how deftly they turned a reboot no one asked for into one of the strongest comedies of the year.
However, that same magical skill has opened up lots of other opportunities for the duo, including Sony's The Reunion, a Carter Beats the Devil adaptation, and multiple TV projects including The Last Man on Earth and The Greatest American Hero. Plus, they're serving as producers on The Lego Movie 2 and Ninjago for Warner Bros. (Rothman is also the writer and director on The Greatest American Hero.)
With or without Lord and Miller at the helm, 23 Jump Street seems like an inevitability. 21 Jump Street and 22 Jump Street have made a combined $320 million at the box office, a figure that looks even better when you consider that they cost $92 million total to make.