Alexa Davalos Cast In Amazon's 'The Man In The High Castle' TV Series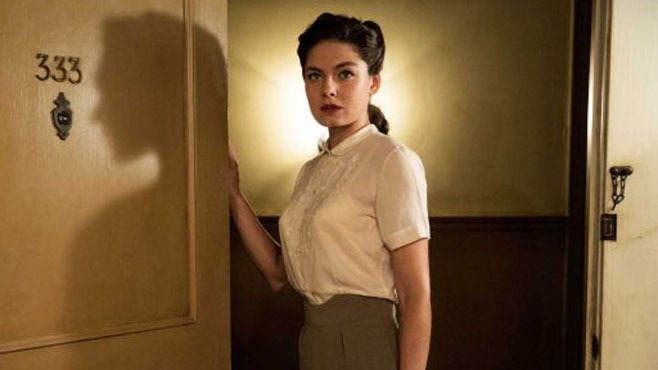 The Man in the High Castle is among the more well-known Philip K. Dick novels, perhaps because it explores a premise many people have perhaps mused upon at some point in their lives: what if Germany and Japan won World War II? The novel is set in the early '60s in an America that is occupied in the east by Germany and in the west by Japan, with a stretch of "free" land in the middle. Years of development attempts have so far failed to yield a TV or film adaptation of the novel, but now Amazon is pulling together a Man in the High Castle TV series.
Luke Kleintank is playing a new character called Joe Blake in the pilot, while Alexa Davalos (Clash Of The Titans, Mob City) has just won the lead female role, a slightly altered version of Juliana Frink from the novel.
Deadline reports the following about Davalos' character:
Juliana lives in Japanese-occupied San Francisco. She is fascinated by Japanese culture and has mastered the art of aikido, but her personal state of truce with the Empire Of Japan stops forever when her half sister Trudy is shot dead in front of her eyes by a Japanese soldier. Entrusted by Trudy with a black satchel containing a vital pro- Resistance propaganda film, Juliana says goodbye to her comfortable life and heads east for Colorado, the secret headquarters of the Resistance, and the road ahead of her is very blurry and very dangerous.
Meanwhile, the new character Joe Blake is "an all-American guy living in New York who has joined the clandestine American Resistance."
It's probably too much to ask that the series would really focus on the more quiet and bookish characters who populate the novel. (Some of the most prominent characters are trade officials, antiques forgers and traders, and industrialists.) We'll be curious to see how the rest of the cast comes together, and what changes are made. Will the novel within the novel, a book which in the story's world is a fantasy vision of a WWII won by the US, be part of the story? We don't know.
The show is from Frank Spotnitz and Scott Free, with David Semel directing.