Orlando Bloom To Return For 'Pirates Of The Caribbean 5'?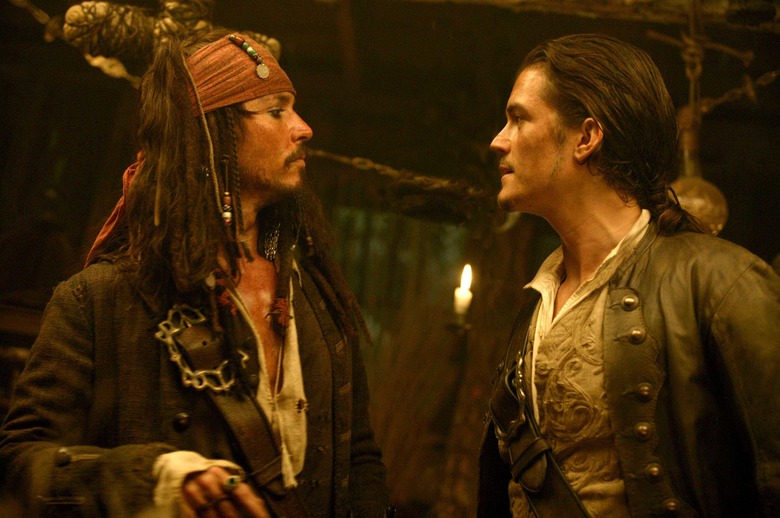 Johnny Depp's Captain Jack Sparrow could reconnect with an old friend in his next adventure. Orlando Bloom has revealed that he could step back into his role as Will Turner in Pirates of the Caribbean 5, after sitting out the last film. Hit the jump to see what he said.
His wording makes it unclear whether he's entered formal negotiations to join Pirates of the Caribbean 5, or whether he's simply taken a meeting to explore the idea. What is obvious is that he had some great experiences on previous installments of the series. He gushed:
That whole experience working with Johnny (Depp) and (director) Gore (Verbinski) was really amazing for me. I had a great time working with Johnny, one of the reasons I jumped at the opportunity (to be in the first Pirates) was because Johnny was involved. I was such a massive fan of Johnny Depp growing up so to get up close and personal to Johnny and see how he worked as an actor was just a massive gift.
Bloom played a crucial role in the first three installments of the series, released between 2003 and 2007. His character's arc seemingly ended there, and he did not appear in the fourth film, 2011's Pirates of the Caribbean: On Stranger Tides.
However, he hasn't quite been able to replicate the success of his earlier career. Indeed, his most prominent post-Pirates release has been The Hobbit: The Desolation of Smaug, in which he reprises the role of Legolas from the earlier Lord of the Rings trilogy.
Aside from Depp and possibly Bloom, Keith Richards and Geoffrey Rush have also been rumored to return for the next Pirates of the Caribbean movie. But don't expect Keira Knightley to join them — in June, she told press that she "won't be going back."
Joachim Rønning and Espen Sandberg are directing Pirates of the Caribbean 5, which is scheduled for release on July 7, 2017.