'Walking Dead' Season 5 Trailer: Constant Vigilance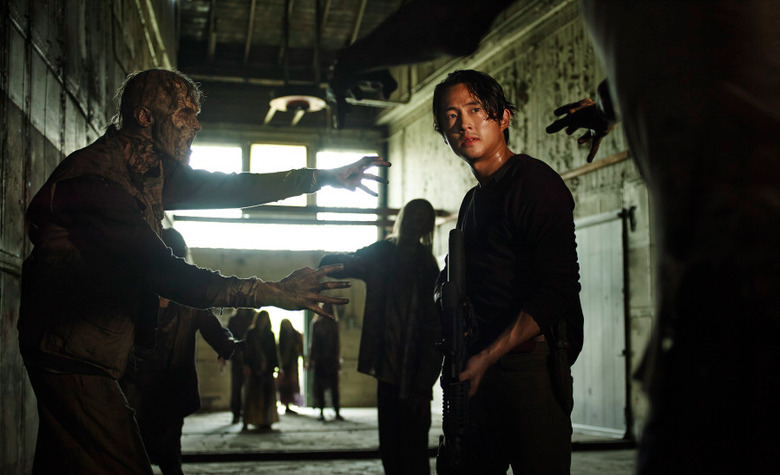 Rick has a very important message in the new The Walking Dead Season 5 trailer: "Never let your guard down." Which, on the one hand, seems kind of unnecessary. Surely anyone who's survived this long zombie-infested world long enough to hear that advice, did so by staying alert at all times.
On the other, though, it never hurts to be reminded. Especially since, as this new promo shows, Rick and his friends seem to be in more trouble than ever before. Check out the The Walking Dead Season 5 trailer after the jump.
As it enters its fifth season, The Walking Dead continues to thrive. It's actually been growing viewership from season to season, and is now so popular that AMC has officially ordered a spinoff. (In addition to Chris Hardwick's chat show The Talking Dead, that is.) Frankly, it's just surprising the network didn't get to that sooner.
But it's better late than never. Judging by this trailer, at least a couple of fan favorites appear to be in peril this season. If The Walking Dead actually pulls the trigger (pun somewhat intended), we may need some new characters to love before long.
The new season picks up where the old one left off, with Rick and company trapped inside the supposed safe zone of Terminus. Naturally, they're eager to bust out — and once they do, they'll reportedly head to DC in hopes of helping Dr. Eugene Porter (Josh McDermitt) find a cure for the zombie virus.
Of course, knowing them, we're probably in for a dangerous and bumpy journey, followed by unfulfilled promises and horrifying realizations on the other end. Somehow, this just doesn't seem like the kind of story that'll have a happy ending.
The Walking Dead Season 5 premieres Sunday, October 12 at 9/8c on AMC.