'The Last 5 Years' Clip Shows Off More Of Anna Kendrick's Vocal Talents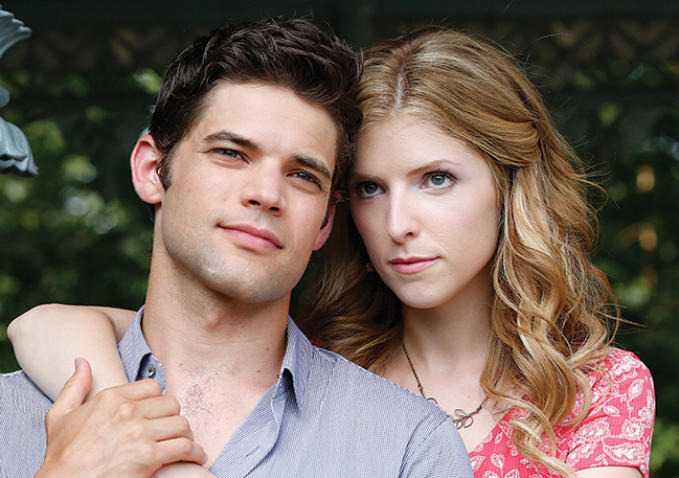 Here's hoping you enjoy Anna Kendrick's singing voice, because you're going to be hearing a lot of it over the next year. There's Into the Woods this Christmas, Pitch Perfect 2 next spring and, sandwiched between them, a little indie called The Last 5 Years.
Directed by Richard LaGravenese, The Last 5 Years stars Kendrick and Broadway vet Jeremy Jordan as attractive young couple Cathy and Jamie. The musical chronicles the ups and downs of their five-year relationship through song — like the one Kendrick belts out in the first The Last 5 Years clip. Watch it after the jump.
Cathy and Jamie don't directly interact until the midpoint of the story, when they get engaged. Which is important to keep in mind as you watch this clip (via EW), because otherwise it seems kind of bizarre that Jordan remains silent while Cathy declares her affection for him.
On second thought, maybe Jordan could stand to interact with her a bit less. There's a time and place for kisses and affectionate glances, and while you're behind the wheel of a moving vehicle is not one of them.
The Last 5 Years debuted at TIFF over the weekend, and so far responses have been mixed. Here's a sampling...
THR:
The problem is that the romance as depicted is just not interesting enough to sustain realistic treatment. It's sweet but a tad dull. The two characters lack dimension, and their stereotypical situations seem entirely generic.
While the film sounds fantastic, the visual side amounts to an opportunity missed. [...] Beyond scrappy, "The Last 5 Years" lacks a unifying aesthetic, as if this were merely the run-through, grabbed on the fly without lights, costumes or location permits.
Kendrick and Jordan are tasked with carrying and singing the entire the film, and they pull it off. Both are charismatic, engaging and make it look effortless, with Kendrick certainly proving once again she knows her way around the song. But it's arguably Jordan—a Broadway actor who also did a stint on "Smash," and featured in "Joyful Noise"—who slightly steals the show.
The Weinstein Co. has The Last 5 Years scheduled for release Valentine's Day weekend, in case you want a more wholesome alternative to Fifty Shades of Grey or a less bloody alternative to Kingsman: The Secret Service.