Is Kevin Smith's 'Tusk' The First Movie With An Official Medical Marijuana Tie In?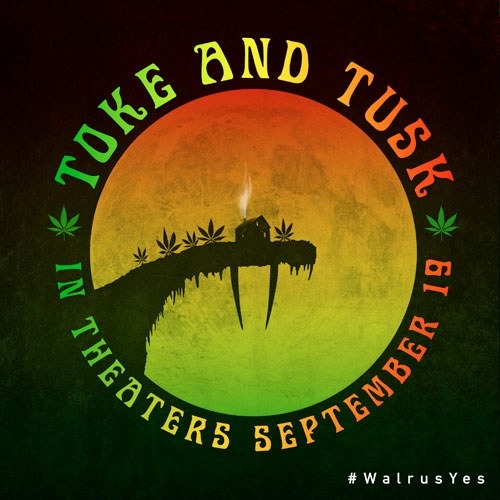 Notable stoner Kevin Smith has negotiated an official medical marijuana tie-in for his new horror movie Tusk. Either times are really changing fast or this is a genius marketing tie in designed to get a lot of press from conservative news media. Find out more about the Tusk weed tie-in, after the jump.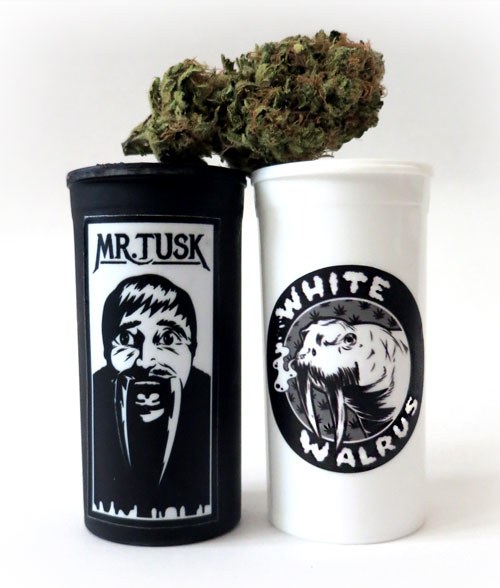 A24 has issued a press release announcing that you can now "Toke up with Mr. Tusk and White Walrus medical-marijuana strains available now at Buds & Roses in Los Angeles!"
Partnering with A24 Films, The World's Best Ever is celebrating the release of Kevin Smith's new film TUSK in a multitude of ways. Keying in on the director's admission that the film "was born in a blaze" the TWBE Ideas division has created packaging inspired by the film for two strains of medicinal marijuana. Named 'Mr. Tusk' and 'White Walrus', these brands of pot have been grown by Kushman Veganics for Buds & Roses, one of Los Angeles's oldest and most respected medical-marijuana dispensaries. Accompanying this in-store promotion, limited edition herb grinders bearing the Tusk logo will be given away to patients of the dispensary and fans of the film, so that they have a daily reminder of the soul crushing spirit of the film's main antagonist, Howard Howe. And what would all of this be without a user-generated contest? Until the release of the Tusk on September 19th, we'll be asking fans to submit to instagram their best pictures of #WalrusBreath, optimally described as "the act of creating tusks by blowing smoke or vapor out of one's nostrils."
Buds & Roses will sell the two strains – "Mr. Tusk" and "White Walrus" – beginning today through September 26, 2014. For more information on the dispensary, check out their site.
The film just premiered over the weekend at the 2014 Toronto International Film Festival as part of the fest's Midnight Madness selections, and so far the early buzz has been overwhelmingly positive – most people seem to agree that the film is bizarre, disturbing and unlike anything we've ever seen before from writer/director Kevin Smith.
Tusk is "a chilling horror tale about the perils of storytelling, following a brash American podcaster as he braves the Canadian wilds to interview an old man with an incredible past—only to discover the man's dark secret involves a walrus." A24 will release Kevin Smith's Tusk in theaters nationwide on September 19th 2014.